Move over Leaf, look out Airstream, you've got some new competition on the road – at least for a few miles anyway. The Golden Gate is an electric camper car designed, fittingly, by San Francisco artist Jay Nelson. The recreational, eco-friendly vehicle was recently featured on Dvice.
Made of electric bike parts and an electric motor, the funky mini-camper can go about 10 miles on one charge. You can definitely plan on lowering your carbon footprint driving this no emissions car, but you'd also better plan on lowering your speed too. The rig tops out at about 20 mph. The outer shell is made of fiberglass, epoxy resin, plywood and glass and measures 96 by 54 by 64 inches.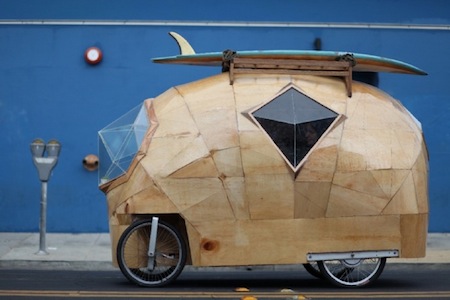 The interior (see photo below) is complete with everything you'd ever need – including the kitchen sink: stove, cooler, storage cubbies, toilet, bed and storage below the bed. To maneuver the vehicle, the driver must sit cross-legged and operate the vehicle using the wooden steering wheel.
This is just one of a number of domed creations that Nelson has hatched. Additional designs include his Honda Scooter Camper, Camper Boat and a Honda Civic Camper. Each features the same shell design as the Golden Gate. But Nelson's work isn't just limited to camper-type vehicles. His portfolio also includes a number of loftier designs.
In 2007 he made the Ukiah Treehouse, an 8-foot dome in the shape of an acorn. According to Nelson's blog, the special nut "was intended to be discovered on his property by visitors and used as a creative space." In 2011, he expanded his treehouse building skills with the Kauai Treehouse, built on the island's North Shore. With 140 square feet of interior living space and the top floor 30 feet off the ground, it's a space even the Swiss Family Robinson characters would envy.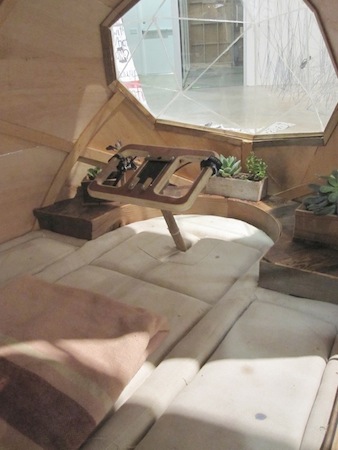 From sky to sea, Nelson then took his artistic abilities to dream up Voyager, an annex of Mollusk Surf Shop, located in the Mission District of San Francisco. The space serves as a combined surf shop, art gallery and submarine. Nelson made interior of the shop to look like an underwater vessel, complete with faux periscope.
Nelson holds a BFA from California College of the Arts and an MFA from Bard College. His work, including a variety of drawings and paintings, have been featured in galleries across California. For more information about the artist, check out his blog.