On the heels of President Obama's State of the Union speech earlier this week, the White House released documents detailing more in-depth some of the administration's plans in the arenas of clean energy and green related domestic manufacturing. They are ambitious, to say the least, and some may be hard to push through a deeply divided Congress.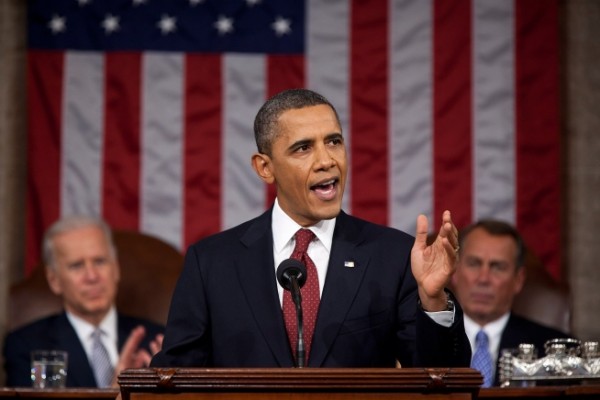 The president, during his annual speech, made references to action items like the Navy purchasing enough clean energy capacity to power a quarter of a million homes a year and calling for the development of clean energy on enough public land to power 3 million homes. We felt at the time these seemed like less ambitious goals then last year in regards to cleantech, but with what's been spelled out now by the White House, we think Obama may well be on the right track for an election year.
First, from a fact sheet entitled President Obama's Blueprint to Make The Most of America's Energy Resources, we learned about these interesting tidbits:
Doubling the share of electricity from clean energy sources by 2035: The centerpiece of the Administration's strategy is a Clean Energy Standard, or "CES" – a flexible approach that harnesses American ingenuity and innovation, and channels it toward a clean energy future. By creating a market here at home for innovative clean energy technologies, we will unleash the ingenuity of our entrepreneurs and ensure that America leads the world in clean energy.
Supporting clean energy with targeted tax incentives: The President supports renewing and extending a number of proven and successful provisions that are crucial to the continued growth of the domestic clean energy sector. This includes tax incentives for clean energy manufacturing, which could create up to 100,000 jobs, and the Production Tax Credit to support investment in the deployment of clean energy technologies like wind and solar.
Opening public lands for private investments in clean energy: To enhance energy security and create new jobs, the Department of the Interior is committed to issuing permits for 10 gigawatts of renewable generation capacity – enough to power 3 million homes – from new projects on our public lands by the end of 2012.
Securing renewable energy for the U.S. Navy: Securing a safe, clean and reliable energy supply for our nation's defense forces is essential to carrying out missions vital to the security of the United States. The Department of Navy has committed to adding 1 gigawatt of renewable energy produced from sources like solar, wind, and geothermal to its energy portfolio for shore-side installations – enough to power 250,000 homes.  Using existing authorities such as power purchase agreements, the Navy will ensure these energy projects are cost neutral and require no up-front investments by the government.
And, from another fact sheet entitled President Obama's Blueprint to Support U.S. Manufacturing Jobs, Discourage Outsourcing, and Encourage Insourcing:
Providing temporary tax credits to drive nearly $20 billion in domestic clean energy manufacturing ($5 billion in credits): The President is proposing to extend tax credits to drive nearly $20 billion of investment in domestic clean energy manufacturing, ensuring new windmills and solar panels will incorporate parts that are produced and assembled by American workers.  This Advanced Energy Manufacturing Tax Credit – which was oversubscribed more than three times over – goes to investments in clean energy manufacturing in the United States. The additional $5 billion in tax credits the President is proposing will leverage nearly $20 billion in total investment in the United States.
Providing tax incentives to support domestic investment in clean energy technology manufacturing:  The Recovery Act's Advanced Energy Manufacturing Tax Credit provided $2.3 billion in incentives that catalyzed an additional $5.4 billion in private sector investment in projects to manufacture the next generation of solar, wind, geothermal, vehicle, energy efficiency, and other clean energy technologies.
As you can clearly see from these outlined items, Obama and company are pushing aggressively for cleantech once again. At the same time, they are also embracing ideas like a new oil lease sale in the Gulf of Mexico and development of a nearly 100 year supply of natural gas. These items clearly won't sit well with some of his more progressive supporters, but in an election year  for a president trying to paint himself more in the center, it could garner him some extra votes.
For the White House's spin on these items, check out their blog posts on energy and manufacturing as well. Some interesting reads.