Driving an RV around the country doesn't exactly seem all that green – but two Bay Area natives are doing just that with their "On the Green Road" project – precisely in the name of sustainability. And if you look closely at their 2003 Airstream, it becomes obvious this is not the same silver Twinkie that your crazy Aunt Janet uses to migrate from Michigan to Mexico every winter.
This one has been retrofitted in a sort of eco-pimp-my-ride style – complete with earth plaster walls and ceilings, a composting toilet, cork and natural linoleum flooring, and energy-efficient LED lighting by San Francisco-based Elemental LED, which is promoting its role in the project. Hauled behind a bio-fueled Dodge Ram, the Airstream is an off-the-grid home to Cece Reinhardt and Brenda Daugherty, a cat, and a dog who are making their way across the country while blogging, holding open houses (and virtual tours), attending conventions, learning about cool sustainable businesses and educating whoever they can along the way.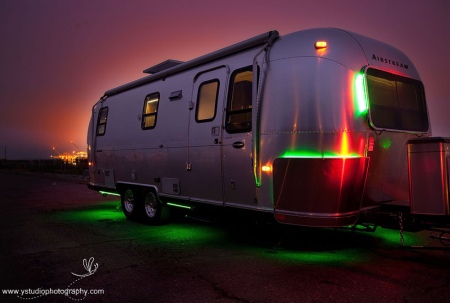 Anyone who decides to do a cross-country trip will soon notice that there are quite a few stretches of road with not much on 'em. While this gives great opportunity for wishing on shooting stars, it can be quite dark. Knowing they'd be passing through these areas made it even more crucial to get some reliable, energy efficient lighting for the RV. To get maximum lighting at minimum energy usage, Elemental LED provided lighting that works in conjunction with the RV's solar power from panels on the roof of the Airstream, and a battery display that allows Reinhardt Daugherty to monitor their energy use.
The RV boasts more intricate lighting and ambiance than the typical home, featuring dimmable LED strip lights and diffusers in the kitchen, dinette, bathroom and reading areas, and 12-volt puck lights throughout the general area. For all the LED haters out there, Reinhart sings her praise: "The LEDs hardly budge the battery charge at all. The most common comment we get from visitors is how strong the amount of light is and how soft and natural the quality is. People seem to think that LEDs are aggressive and not attractive, but that couldn't be further from the truth. We love using the dimming light strips; they offer wonderful mood lighting without the glare of being in our direct line of sight." For those dark nights in the boonies, there are also waterproof, color-changing LED strip lights on the outside of the RV.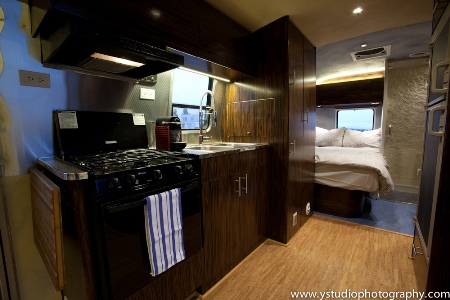 While people are getting used to seeing LED lighting used in everything from television sets to the New Year's Eve ball that dropped as we entered 2012 in Times Square, price still seems to be the determining factor (although new players like Switch are promising more affordable products).  But with artificial lighting responsible for 15 percent of residential electricity use, the potential to significantly reduce our energy use is important for all of us – even if we aren't limited to the power behind solar panels strapped to the roof.