Illinois is wind power country, make no mistake about it. In 2011, the state ranked fifth in the nation in installed capacity [PDF], and in 2010 only Texas added more wind that Illinois. But tucked away in the state's renewable portfolio standard is a little provision that ensures that solar won't get completely left behind. It's that provision that is driving the just-announced development of a 23-megawatt (MW) solar PV plant in La Salle County – and giving GE's emerging solar business a boost.
The Invenergy Grand Ridge Solar project will go up right alongside Invenergy's much larger Grand Ridge Wind, which has 140 turbines producing up to 210 MW of power. Those are GE turbines, and the solar project will use GE technology, as well, as the multinational conglomerate moves to leverage its strength in wind to boost its newer solar efforts. The solar business might grow in importance to GE if the U.S. doesn't extend the production tax credit – a key driver of wind development – before it expires at the end of this year.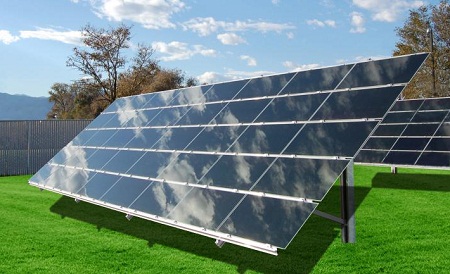 "Expertise in multiple technologies is the future of the renewable energy landscape," Victor Abate, vice president of GE's Renewable Energy business, said in a statement. "At GE, we're uniquely able to partner on both wind and solar projects with customers like Invenergy."
GE is making a big investment in solar manufacturing, building a plant in the Denver suburb of Aurora that will be able to produce 400 MW of thin-film panels annually. The biggest solar factory in the United States now operating is in Hillsboro, Ore., where SolarWorld's U.S. unit can churn out 350 MW of crystalline silicon PV panels.
GE believes its panels – lighter than conventional PV panels, of course, but even lighter than thin-film competitors, the company claims – are a good choice for commercial rooftops. But it's also pitching them for development alongside wind farms, as at Grand Ridge (although the Grand Ridge plant will use CIGS panels, while the Colorado plant will produce CdTe panels). "Adding solar to 10 percent of GE's global wind turbine installed base would sell out GE's recently announced 400 MW solar panel factory in Colorado for six years," the company noted.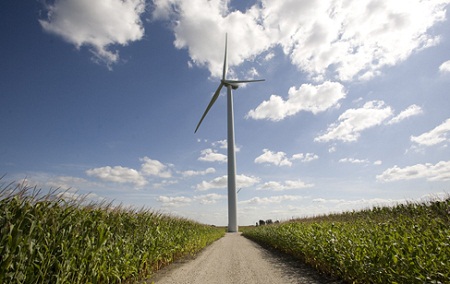 The power from Grand Ridge Solar will go to ComEd, the Illinois utility owned by Exelon. Under the Illinois renewable portfolio standard, the state's investor-owned utilities must source an ever-increasing portion of their power from renewables, finally hitting 25 percent in 2025. Seventy-five percent of that clean power must come from wind, but the law also requires 0.5 percent come from solar by this June 1, with that figure increasing gradually until it hits 6 percent by June 1, 2015. But remember, that's just 6 percent of the renewable energy, not the total.
"It's a little carve-out that was put in the law," Bob Vogl, president of the Illinois Renewable Energy Association, told us in a telephone interview. "Wind is the big focus here and probably always will be, but 23 megawatts is very big for us, so the requirement is having some impact." Vogl said the biggest solar power system he knew of now operating in Illinois was the 10-MW Exelon City Solar project, which went in on the site of a former industrial brownfield in Chicago in 2010.