This was to be the week the U.S. Department of Commerce delivered a preliminary decision on SolarWorld USA's demand to punish China and its solar industry with countervailing duties. But Commerce pushed that off to February. SolarWorld's opponents filled the void by playing the Germany card.
"German Company Triggers Beginning of Destructive US-China Trade War," blared the headline to the press release pumped out by the Podesta Group, the big D.C. firm that's doing PR for the Coalition for Affordable Solar Energy (CASE). True enough, SolarWorld USA, despite having 1,000-plus employees in Oregon, is a unit of SolarWorld AG, which is based in Germany. But how highlighting this fact is supposed to strengthen CASE's argument – other than mirroring the China fears whipped up by SolarWorld and its cohorts in the Coalition for American Solar Manufacturing (CASM) – I don't know. CASE doesn't need to find its own xenophobic line in order to convince me that duties on Chinese solar imports are a bad idea.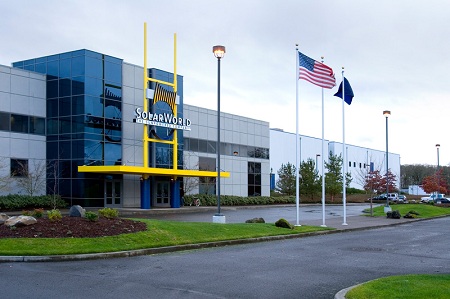 I'm not saying this is an easy call – and the fact that Commerce sought an extra month to consider the case suggests it might be struggling, as well. A lot is at stake here, not least important of which are the jobs of those 1,000-plus Oregonians, neighbors of mine. I feel for them, for the uncertainty they face during this tumultuous time in the solar industry.
And yet, all around me I see solar power taking root in this country to a degree scarcely imaginable even a few years ago, and the idea of putting that at risk – and make no mistake, duties on Chinese solar products would do that – seems madness. Here's a little story: Last month I flew down to San Jose to see my parents. As is my custom on such visits, I went for an afternoon run around the track and the playing fields at my old junior high school. I was blown away to find what had sprung up in the months since my last run there: several rows of massive solar canopies, some over here on empty ground near the edge of the school property, some over there on the pavilion where we used to hang out at lunch, harassed by marauding seagulls. The installation at Leonard Herman Junior High School is no cutesy setup; it's a significant power contributor, part of a four-school project that gives the district 1.8 megawatts of PV capacity.
It's going in everywhere now, solar is. It's on three houses on the block just around the corner from my house. It's going in at the end of the light-rail line I often take. Walking from the train to the office, I see a massive system on a social services building in Portland's Pearl District.
As CASE rightly points out, the furious pace of U.S. solar installations and robust exports from the U.S. have grown the solar workforce in this country. And the vast majority of those workers – more than 90,000 out of 100,000 – are not engaged in the manufacture of crystalline solar cells and panels. Their jobs count, too.
SolarWorld raises the specter of China wiping out our solar manufacturing industry with its under-cost products, then, once we're defenseless, ratcheting up the price. Some have said, "Look what they've done with rare earth minerals." The problem there is that, well, first of all, that rare earths strategy isn't working out perfectly for China right now, with prices far below their highs of last year. And China's actions, while causing pain and consternation, are also spurring rare-earths mining and processing growth in South Africa, Australia and even the U.S., and inspiring companies who use rare earths to look for ways to do without them.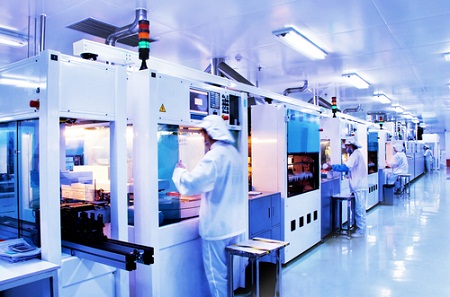 Another problem with the China solar-monopoly theory: Chinese solar manufacturing isn't a monolith. Competition is fierce within China. Bloomberg recently reported that the Tawainese company Foxconn Technology – the Apple maker – was building a plant practically across the street from Suntech in Jiangsu province, China. "Foxconn plans to build new factories with undreamed-of scale and lower cost," a Bloomberg New Energy Finance analyst said. "It will push capacity higher and prices lower."
No doubt, China's currency manipulations and its subsidies for raw materials help its solar industry. But not all of the details of the SolarWorld case hold together. There are indications that the vast pile of low-interest dough that China has made available to its industry – a much-cited point in the SolarWorld argument – has been largely untouched by the biggest players, including Suntech, Yingli Green Energy, JA Solar Holdings and Trina Solar.
Another point SolarWorld makes is that China has been building its solar industry almost exclusively for export. But we're seeing that shift. In August last year, the country enacted its first-ever nationwide solar PV feed-in tariff. As we've reported, the 12th Five-Year Plan set what was then viewed as an ambitious target of 5 gigawatts (GW) of solar installations by 2015. Later it was raised to 10 GW and still later to 15 GW. Then just this week, Bloomberg reported that China said it would double the amount of solar capacity in operation by installing 3 GW this year – and analysts see that as a low-ball number, with 5 GW or even 7 GW possible. Hari Chandra Polavarapu, writing in support of SolarWorld, said what we need to do is "drive domestic demand both in China and the U.S." But there's every indication that's already happening.
Make no mistake, Chinese manufacturers will retain capacity for exporting their goods to the United States, and the price pressure they have exerted is reshaping the industry. Weaker competitors are falling by the wayside – but they aren't all going away. Did you see this story about Korea's solar ambitions? The idea that in this, the 21st century, China will come to own the ever-evolving, fully global solar industry seems laughable.
The surge in low-cost solar production – from China and elsewhere – has made life difficult for U.S. solar cell companies, but it has been a boon for solar power in this country. In helping drive the price of solar toward grid parity, China has done us a huge favor. We should thank them for the help, not put up barriers, which would most certainly lead to counter-barriers, and not just between the U.S. and China but between China and Europe, and India and China and so it will go. Instead of going that route, we should redouble our commitment to invest, to move forward, to seize the opportunity to be the leader in cleantech innovation.