Goal Zero, which emphasized affordability last year with the $139.95 Guide 10 Adventure Kit portable solar power system – our reviewer said it was "a value at that price" – returned to Las Vegas and the 2012 Consumer Electronics Show touting two products up the price ladder, one an on-the-go charger, the other a big-time backup power source.
The Sherpa 50 Portable Charger ($244.95) was a 2012 Innovations Honoree at CES. What's it got that makes it so special? Actually, it's mostly what it doesn't have: At 14 ounces, Goal Zero said, the Sherpa 50 Portable Charger is "half the load of its predecessor, yet it harnesses the same 50 watt hour power capacity." Measuring a shade under 5 inches on each side and just an inch and a half thick, Goal Zero sees you easily slipping this unit into a bag or briefcase.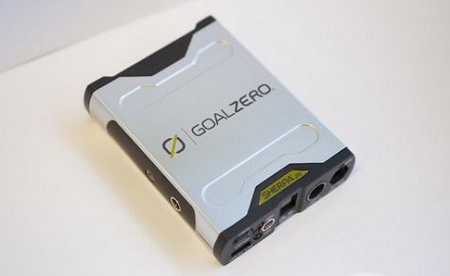 The company's other selling point with the Sherpa 50 is a "Power Port" that enables users to charge laptops directly from the recharger. That's right, no AC inverter or computer AC power cable necessary. "Users will be able to plug their device directly into the Sherpa 50 using one of its included connector cables," Goal Zero said.
Sucking juice from the grid, the Sherpa 50 will fully charge in two or three hours, Goal Zero said, providing enough power to keep a smartphone going  for 10 hours or an iPod operating for 25. If you pay extra for some Goal Zero solar panels, you can charge the Sherpa 50 in five to 10 hours – a big range that's obviously dependent on the quality of sun you're getting. The Sherpa 50 will be available in June, Goal Zero said.
Goal Zero's other unit at CES, the Yeti 1250 Solar Generator, is the company's highest capacity portable recharger, which it is marketing to green-minded folks who might be interested in trading up from their conventional gas-powered backup power unit. Sixteen inches tall, 11.6 inches wide, 14.5 inches deep and checking in at a stout 103 pounds, the Yeti 1250 boasts a wide range of output types, including AC, 1.5 amp USB, 33 amp 12V DC, 6.6 amp 12V DC … making it compatible, Goal Zero said, with "a wide array of electronics from GPS units to refrigerators."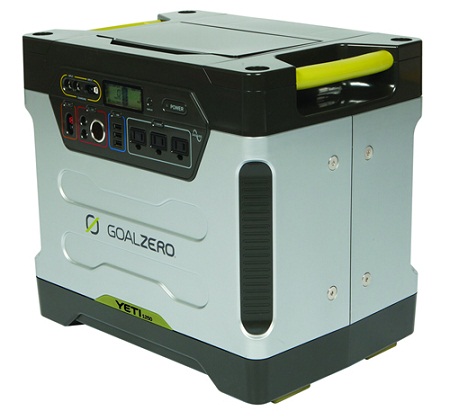 It takes 20-22 hours of sun to fully charge the Yeti 1250, which isn't substantially longer than the 16-20 hours required from a wall outlet. Goal Zero said the generator will run a laptop for at least 30 hours, or keep a full-sized refrigerator cold for between two and four days.
The Yeti 1250 Solar Generator will be available in May, Goal Zero said, with the unit alone priced at $1,499.99. Packaged with two Boulder 30 solar panels and a carrying cart, the price rises to $1,999.99.