After years of planning, Arizona Western College has announced that the school's landmark 5-megawatt (MW) photovoltaic (PV) system has been commissioned. Overall, the system covers 23 acres of the school's Yuma, Ariz., campus. It's said to generate enough power to meet 100 percent of the campus's electricity needs during the day, and is expected to deliver $62 million in cost savings and other revenue for the college over its lifetime.
The installation integrates five different PV technologies: concentrator photovoltaic (CPV) systems with dual-axis trackers from SolFocus and GreenVolts; thin-film panels from Sharp Solar; monocrystalline panels from SolarWorld; polycrystalline panels from Suntech; and single-axis trackers from SunEdison. The installation also uses SatCon inverters, and power generation monitoring and data management services from AlsoEnergy.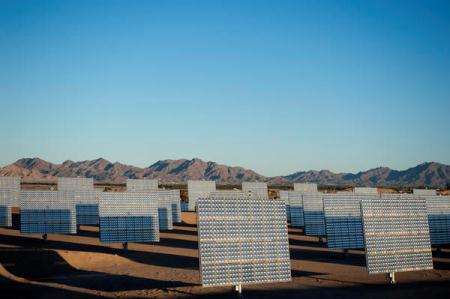 Arizona Western said the installation will enable it to expand its clean energy workforce development and research opportunities, including offering solar technician certificates and renewable energy degree programs. "As a college that has worked to develop a strong science program, with facilities and scholarships that are the envy of the state, we are thrilled to integrate solar technology into our curriculum and our sustainability plan," college president Glenn Mayle said in a statement. "This installation creates significant savings and revenue potential for the district that is rare for colleges our size."
Arizona Western will purchase power generated by the plant from Main Street Power under a 30-year power purchase agreement. The installation was also aided by renewable energy incentives from Arizona Public Service, which cover over half the cost of the installation. For more information about the college project, or to watch the panel of experts speaking about the project at the groundbreaking ceremony, visit here.