Developers broke ground on the new home of the San Francisco Public Utilities Commission (SFPUC) way back in 2009 (after a three-year wait, according to the Architect's Newspaper), but only now is the building receiving its crowning glory: 688 solar panels, which – combined with the built-in wind turbines and the building's energy efficient design – are expected to trim demand for grid-fired electricity by 32 percent.
BASS Electric is handling the installation at the LEED Platinum-certified commission headquarters, which is at 525 Golden Gate in San Francisco's Civic Center. (The name of the company may sound familiar, as this is the same contractor who handled the installation of California's largest solar array, covering an area equivalent to two football fields over San Francisco's Sunset Reservoir.)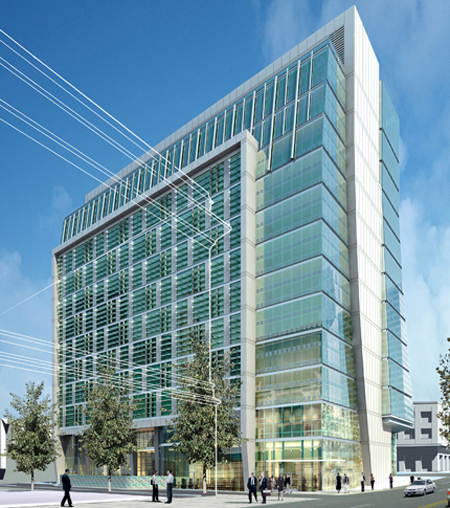 Other green features of the new commission headquarters building include 100 percent onsite waste water treatment, low flow toilets and waterless urinals, 45 percent daylight harvesting, and the consumption of 55 percent less energy than a conventionally constructed building of similar size and function. The building is also getting wind turbines designed to produce at least 7 percent of its energy. In addition to LEED Platinum, the building has garnered two awards from the American Institute of Architects' San Francisco chapter.
Of course, BASS Electric is more than happy to have handled both the Sunset Reservoir and commission headquarters installations, as both constitute landmark green projects for the Bay Area and beyond. "No city is more progressive and innovative than San Francisco, and the SFPUC Building is a monument to our success," Jennifer Trevino, chief operating officer of BASS Electric, said in a statement.
Help Carbonfund toward their goal of planting 1,000,000 trees. Subscribe to Green Earthling Deals by Friday, Nov. 25, 2011, and EarthTechling will donate $1 for every new subscriber. See contest rules for details. Sign up in the upper right-hand corner at EarthTechling.com or right here.