It was a record ride that almost never happened.
In September, Jeff "Dice" Disinger was behind the bars of the electric drag bike known as the Predator. He was going 130 mph when suddenly he drifted too far in his lane and his hand struck a guardrail, resulting in multiple hand fractures. Somehow, though, he managed to keep the bike upright.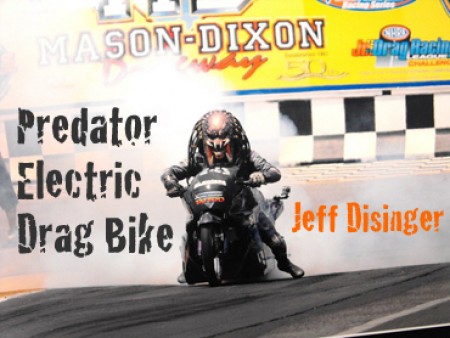 On October 24, a little more than a month after disaster nearly struck, Disinger set a new National Electric Drag Racing Association record in the DMC/A (drag motorcycle, less than 300 volts) category, piloting the Predator down the strip at Rochester, New York's Empire Dragway in 8.6 seconds at 143.95 mph.
The sci-fi themed Predator is powered by a lithium-polymer battery made by Flightpower that is normally used to power electric remote-controlled aircraft. After the record run, Lawless Racing owner Shawn Lawless said, "The most impressive part of the day for me was that we never had time to bump the current up above 60 percent. If I can talk Jeff into some wheelie bars and bump up the current level on the Godzilla (controller), this will be a solid seven-bike. All that with a battery that weighs 20 pounds less than my golden retriever."
According to Lawless, "The Predator has gone from 12 seconds to 11 seconds, to 10 seconds, to nine seconds, to eight seconds in the quarter mile, in just a couple of years. The percentage performance gains that the Predator has achieved are almost unheard of in drag racing. This is technically the third quickest electric bike on the planet but stay tuned, the Predator is only just now picking up up the scent of it's prey."
Here's the video of the Predator breaking into the eights: