Biofuel-powered commercial aviation, which has been popping up in Europe over the last several months, has suddenly come to America – and more is on the way.
Continental flight 1403 took off from Houston at 10:32 a.m. CST today, bound for Chicago, powered by what parent-company United called the first 100 percent algae-derived jet fuel (blended with 60 percent conventional jet fuel). Meanwhile, Alaska Airlines announced it will do two maiden biofuel-powered flights out of Seattle on Wednesday – one across the country to Washington, D.C., the other a short Horizon Air hop south to Portland, Ore. – using a fuel blend that includes one-fifth sustainable biofuel made from used cooking oil. And while the United demonstration was something of a one-off, for now, Alaska and regional partner Horizon will follow up with a total of 75 flights between Seattle and the two cities over the next few weeks, the company said.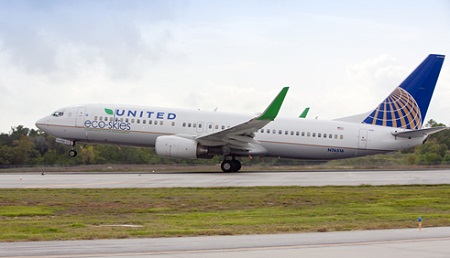 United made additional news by announcing that it had signed a letter of intent to negotiate the purchase of 20 million gallons per year of the algae biofuel that powered the Boeing 737-800 from Houston to Chicago on the demonstration flight (shown above taking off). Delivery of the product could come as soon as 2014, the airline said. According to United, South San Francisco, Calif.-based Solazyme makes algae oil  through a proprietary fermentation process. The oil used in today's flight was refined outside Houston using renewable jet fuel processing technology from Honeywell subsidiary UOP, United said.
"United is taking a significant step forward to advance the use of environmentally responsible and cost-efficient alternative fuels," Pete McDonald, United's executive vice president and chief operations officer, said in a statement. "Sustainable biofuels, produced on a large scale at an economically viable price, can one day play a meaningful role in powering everyone's trip on an airline."
While United was going with algae oil, Alaska was going the cooking oil route – as the European airlines had earlier this year. The fuel comes from aviation biofuels broker SkyNRG, and is made by Dynamic Fuels, a partnership between the synthetic fuel manufacturer Syntroleum and the meat production giant Tyson Foods. Together, the companies established a venture that has been converting fats, oils and greases into fuels at a plant in Geismar, La., just south of Baton Rouge, since late last year.
One difference between Alaska's flights and those that took place in Europe is the proportion of bioful in the blend: KLM Royal Dutch and Finnair used 50-50 blends of biofuel and conventional fuel in their flights. In an interview, Alaska spokesman Paul McElroy said the company's decision to use a 20-80 blend was based on the high cost of the fuel – it is six times as expensive as conventional fuel – and the company's desire to do more than just a flight or two.
What comes after the 75 flights, which will consist of three daily runs each way between Seattle and Portland, and a daily Seattle-Washington, D.C., flight? Alaska said it would love to make biofuels a regular part of its operations, but that's a matter of the biofuels industry creating an adequate, affordable and sustainable supply.
"Commercial airplanes are equipped and ready for biofuels," Alaska Air Group Chairman and CEO Bill Ayer said in a statement. "To the biofuels industry, we say: If you build it, we will buy it."