We are, it seems, tethered to our gizmos. Smart phones, MP3 players, GPS handsets, are now ubiquitous. And why they all have a different application, they all have one thing in common. They all have an insatiable craving for power.
That power has to come from somewhere. For most folks, that's a simple as plugging a charger into a wall socket. But what if there is no wall socket around? What if you want a cleaner alternative? What if you just don't want to pay for the juice? Now, an intrepid tinkerer has crafted a easy to assemble, affordable DIY solar charger that fits into a standard size briefcase.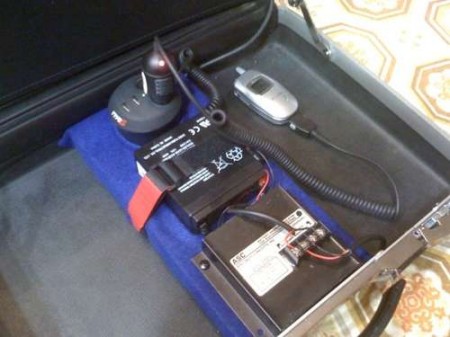 DIY-inventor/tinkerer eliteMET recently posted his instructions on the website instructables.com. The solar charger only needs a handful of easy-to-find materials, chief among them; a hard-sided briefcase, a small solar panel, a 12-volt charge regulator, a 12 volt battery, a multiple socket car charger and some common hand tools, bolts, washers, screws and fasteners. That's it.
Assembly of the solar charger is basic, straightforward and well documented in eliteMET's instructions. Basically, you attach the solar panel to the briefcase and install a wood brace inside the case to hold battery, charger and regulator. After that, simply attach the charger to the battery and mount inside the case. Finally, attach the solar panel to the voltage regulator. Viola!
eliteMET writes on the site, "When your solar panel is making power, your voltage regulator's LED will light up telling you that it's working. Then, your car charger's LED will light up telling you that its receiving power. Finally, after you plug your phone in and it beeps." Seems pretty darn simple, and useful, to us.
Help Carbonfund towards their goal of planting 1,000,000 trees.  Subscribe to Green Earthling Deals by Friday, November 25, 2011 and EarthTechling will donate $1 for every new subscriber. See contest rules for details.  Sign up in the upper right hand corner at EarthTechling.com or right here.