One of those big California solar power plants that's getting support under the U.S. Department of Energy's controversial loan-guarantee program is a step closer to becoming a reality – although it'll still be at least a couple of years before the job is done.
Bechtel, the contractor brought in by NRG Energy when it purchased the California Valley Solar Ranch project from SunPower, said it had received formal go-ahead to proceed on engineering, procurement and construction for the 250-megawatt (MW) plant in San Luis Obispo County. SunPower remains on the design and construction team, and upon completion will jointly operate and maintain the project with NRG for a couple of years, after which NRG will go solo.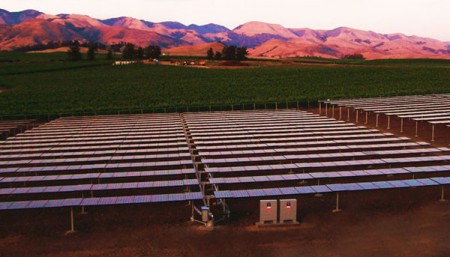 Bechtel said it had begun working on the site in August under what it called a "limited notice to proceed agreement," but earlier this month it received "full notice to proceed." The company is also a contractor on the BrightSource Ivanpah plant, which is backed under the loan-guarantee program and by Google. California Valley Solar Ranch will use sun-tracking solar photovoltaic modules to produce power, while Ivanpah is going with a solar thermal power tower system.
Bechtel said the California Valley project would take about two years to do. "Upon completion, the California Valley Solar Ranch will produce clean, renewable energy to meet the power needs of approximately 100,000 homes," Ian Copeland, president of Bechtel's Renewable Power division, said in a statement. "Equally important, it will be built with minimal impact to the land and habitat."