A new quarterly report from PV Solar Report, which watches the California residential solar market, identifies the top 10 solar cities in the state. The list is based on reservations for the new California Solar Initiative (CSI) solar rebates by customers of Pacific Gas & Electric (PG&E), Southern California Edison (SCE) and San Diego Gas & Electric (SDG&E) in the first eight months of 2011.
According to this data, the top 10 California solar cities are: (1) San Jose; (2) San Diego; (3) Bakersfield; (4) San Francisco; (5) Fresno; (6) Corona; (7) Simi Valley; (8) Santa Rosa; (9) Murrieta; and (10) Lancaster.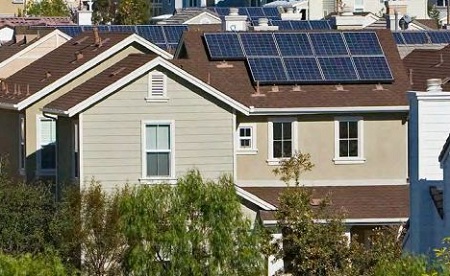 With the exception of San Diego, the top five cities are in Northern California or the Central Valley, far from the utility-scale solar power hotbeds of the southern California desert. According to Lynn Jurich, president and co-founder of SunRun, a provider of solar leases and solar power services, Fresno and Bakersfield residents have some of the highest electric bills in the state, "so it's not surprising that more homeowners in those areas are looking for ways to save money on electricity by switching to solar," she said.
Interestingly, the report also indicates that third-party-ownership models, including solar leases or solar power services, are becoming the preferred option in California. June 2011 was the first month ever in which more Californians opted for third-party-owned solar offered by companies such as SunRun, SolarCity and even Lowe's, over cash purchases. In seven of the top 10 California solar cities, the majority of homeowners chose a lease or similar third-party ownership option over purchasing their solar equipment upfront.