By Steven Castle, GreenTech Advocates
Security, home control and energy management service company Vivint believes that offering affordable solar panel systems—as in no money down—could pave the way to sell more energy management in homes.
Vivint is offering solar electric systems—with no upfront fees—in New York, New Jersey, Utah and Hawaii. The company hopes to offer the service nationwide soon.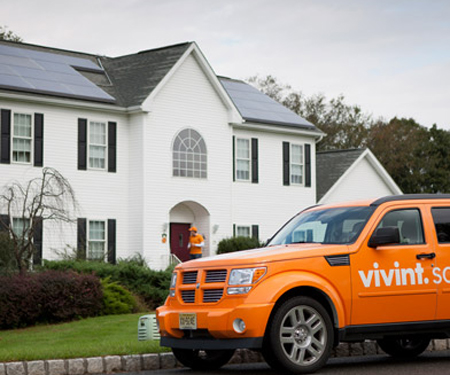 Vivint is offering the solar photovoltaic (PV) electric systems under Power Purchase Agreements (PPAs), which are structured similar to leases. Vivint's solar customers need to pay no money down for the systems, but pay Vivint a monthly fee based on how much power the solar panels produce.
Vivint says it will size the system to produce about 80 percent of a home's electricity, then sell their customers the electricity the solar panels produce at a 20 percent discount, so users with a typical electric bill of about $100 would pay Vivint about $60 a month ($80 discounted) and their regular electric utility about $20, resulting in a 20 percent savings.
The PPAs have 20-year terms, and customers can purchase the system after that. Customers can also buy the solar panels if they move, or transfer the PPA agreement to the home's new owners. The agreements are subject to rate increases, but Tanguy Serra, president of Vivint Solar, says the company will cap increases at 3.9 percent.
The 235-watt solar panels are from Canadian Solar, and each panel is wired to a separate Enphase microinverter for better efficiencies. Vivint says its smallest systems would be about 10 panels producing 2 kilowatts (kw).
Vivint Solar began marketing its consumer solution in New Jersey in the summer of 2011. The expansion into other states is made possible by a commitment of renewable energy tax equity from a subsidiary of U.S. Bancorp, which will support the financing of $75 million in residential solar energy systems in the United States. The fund will finance a projected pipeline of 2,400 residential solar installations in New Jersey, Utah, Hawaii and New York.
Sun-Powered Energy Management?
Vivint looks to leverage its solar sales into selling more of its energy management and home control solutions, and sees solar electricity as one part of a home's energy efficiency system. It will also look to tie in housewide energy monitoring capabilities next year with partner company Tendril. The energy monitoring portion with Tendril will go into beta in spring and be ready for consumers in summer of 2012, Serra says, and include CT (current transformer) clamps on the electrical mains at the service panel.
Empirical evidence suggests that solar does sell energy management package, Serra says.
Serra envisions that the solar panels will communicate with Vivint's Go!Control for home automation to provide more intelligent usage of energy in a home. For example, the Go!Control could precool a home when the solar system is producing a lot of electricity during the day, and electric rates from the utility are set to increase at night (via Time of Use pricing). The Go!Controls are also equipped to show different colors on their touchscreens, like red, when energy use in a home exceeds certain limits.
Vivint is also partnering with Constellation Energy to offer consumers in some states discounted electricity rates.
It will interesting to see whether other service providers, such as ADT, Comcast and Verizon follow with solar offerings or more energy management — and whether Vivint has success selling energy management products through its solar offering.

Editor's Note: This news story comes to us as a cross post courtesy of GreenTech Advocates. Author credit for the post goes to Steven Castle.