Oltmans Construction, a California-based industrial and commercial general contractor, has announced that it has completed construction of the largest rooftop solar installation in North America. The 8.6-megawatt (MW) rooftop photovoltaic (PV) system uses SunPower PV modules, and covers 1.2 million square feet on a Prologis distribution center in Rialto, California.
The system is the company's 13th solar installation, bringing its portfolio to a total of 26 MW, valued at over $68 million. It was designed by Blue Oak Energy which, among other projects, has also designed solar power systems for REI, Google, Walmart and a number of wineries.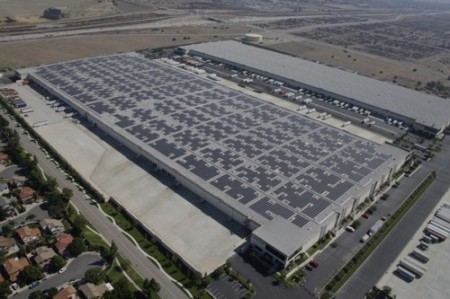 "We have longstanding, close relationships with both the construction and solar communities, which gives us the ability to manage large-scale solar installations from identification to construction completion," said Mike Englhard, vice president of Oltmans Solar.
Prologis, for its part, isn't new to solar power atop roofs at its facilities. The company is part of a recently closed $1.4 billion U.S. Department of Energy loan guarantee that aims to place grid-connected solar panels on the rooftops of industrial buildings in 28 states. Called Project Amp, energy produced from the solar panels will feed directly to the electrical grid, as opposed to powering the buildings where they are installed.