When Tony Fadell left Apple in March last year after a successful stint there as a key designer of the iPod, he promised he'd return to technology in time with a focus on the eco angle. Well, that time is now and Fadell is back with a new start up called Nest Labs and its unique spin on the home thermostat.
Called the Nest Learning Thermostat, Fadell's new gizmo for the home is described as a smart thermostat that learns about one's behaviors, preferences and surroundings to create a custom heating and cooling schedule that reportedly keeps the environment comfortable while also promoting energy savings. With the annual energy bill for a a typical single-family home being approximately $2,200 – and heating and cooling accounting for around half of that – a device like this, if it truly does as it says, could do a lot to cut into that line item in one's house budget.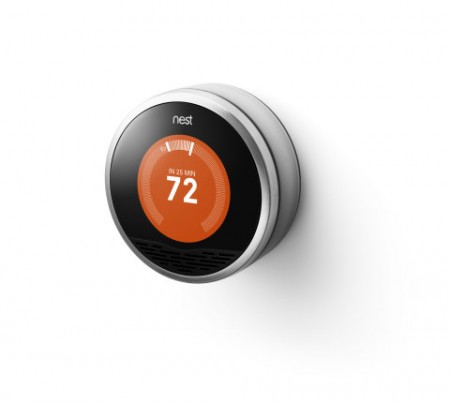 The Nest thermostat, according to the developer, accomplishes its task through a combination of sensors, algorithms, machine learning, and cloud computing. It does much of this automatically, programming itself based on the temperatures you set. It is said to learn your personal schedule in a week, automatically turning down heating or cooling when you're away to save energy.
With regards to saving energy, Nest Labs developed its thermostat to guide one to more energy-efficient temperature settings through displaying a green "Nest Leaf" when one sets the virtual dial to a more energy-efficient choice. The device also connects to one's home wireless network, allowing owners to change the temperature, adjust the schedule and check energy usage from a laptop, smartphone or tablet.
From a design perspective, the thermostat is described as sporting a brushed stainless steel dial that frames the display. It also has a silver finish that "creates a chameleon effect that grounds Nest within its environment by picking up the color of the wall upon which it's mounted."
This is definitely not your average home thermostat. While it will remain to be seen how well it performs in a variety of home settings, the concept of what it might deliver sounds interesting. A little bit of sticker shock though – it prices for $249 per unit, available starting mid-next month. One can install it themselves, or bundle installation service with it at the time of purchase.
Become a Green Earthling Deal email subscriber by Friday, October 28th and you could win a wireless solar keyboard from Logitech! Either Mac or PC, it' your choice.