Solar power is coming to Florida Gulf Coast University's Harvey Kapnick Education Center at Naples Botanical Garden. Fafco Solar announced the construction of  a 40-kilowatt (kW) photovoltaic (PV) system with 164 solar modules and 164 enphase microinverters. The rooftop system will produce enough energy to power up to seven average homes.
"What better place to include solar panels than in a garden, where sunshine fuels everything in the landscape that happens around you," said Chad Washburn, director of conservation and education at the garden. Project construction began on August 15, and is expected to be completed this month. To make the installation simpler, Fafco said it will use a mounting system that connects the PV panels to the center's metal roof without penetrating the roof material.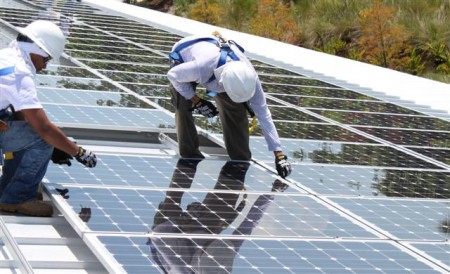 Fafco Solar said "the usage of solar energy for such a large facility will conserve fossil fuels, helping to offset the overall carbon footprint" for southwest Florida. That might be a little bold, given the 40-kW size of the project, but every bit does count and the system will help the center reduce peak power demand at the center.
Given its size and reputation for sunshine, it's a little surprising that Florida was sixth in grid-connected PV installed capacity in 2010, according to the Interstate Renewable Energy Council's annual report. Its 73 megawatts (MW) of capacity was minuscule compared to California's 1,022 MW, and less than a third of New Jersey's 260 MW.