Saint-Gobain, a European manufacturer of advanced building materials, will open a new solar mirror manufacturing plant in Goodyear, Ariz., the company said. Saint-Gobain has operations in 64 countries and 190,000 employees worldwide, but the plant on the outskirts of Phoenix will be its first manufacturing facility in North America, and signals its plans for growing the North American solar thermal power market.
The new plant is scheduled to come online in the last quarter of this year, and will eventually produce millions of square feet of solar mirrors. This production capacity will complement Saint-Gobain's parabolic mirror production plant in Portugal, and a German plant that produces flat mirrors. In addition to manufacturing high-performance mirrors for solar thermal power plants, Saint-Gobain also produces specialty glass and high-performance plastics for PV modules, and thin-film PV modules using CIGS technology.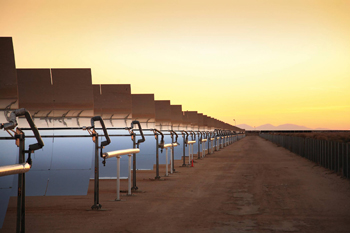 According to Saint-Gobain, the company's decision to build the plant in Arizona was driven by the state's renewable energy tax credit, as well as its proximity to U.S. concentrating solar power (CSP) hotspots in the Southwest. The plant will produce enough mirrors each year to generate 300 megawatts, saving of up to 320,000 tons of carbon dioxide from being released into the atmosphere. The plant will also create 50 area jobs.
"Saint-Gobain Solar is a welcome addition to Greater Phoenix's growing solar supply chain and further enhances our reputation as the nation's hotspot for solar and renewable energy," said Greater Phoenix Economic Council President and CEO Barry Broome. "Investments from major international corporations like Saint-Gobain exemplify how the Renewable Energy Tax Incentive Program is creating quality jobs and building a sustainable economic platform for the region's future."