[Editor's Note: This article is part of our ongoing coverage of Solar Decathlon entries leading up to the event's kick off on Sept. 23.]
Instead of focusing only on energy efficiency at this year's Solar Decathlon, the University of Maryland is also tackling water conservancy with their entry, WaterShed. WaterShed was inspired by the ecosystem of Maryland's Chesapeake Bay. WaterShed is an example of how natural water resources can be maintained and protected by homes and buildings, and the house features technology to manage and harvest stormwater, filter and recycle graywater, and minimizing water use in general. In addition, the house also has PV and solar thermal arrays for sustainable energy production.
The design of the home was inspired by the path of a water drop, and the design of the roof serves to collect rainwater along a central axis–picture a traditional peaked roof, but inverted. The house itself is designed as two modules, or "sheds" connected by a third module, or "hyphen." The idea behind this "hyphenation" is to physically separate the living and working, private and public areas, as the house is designed to be used as an office space as well as a home. This allows residents to work at home, but still be able to remove themselves from the work world and relax in a space designed solely for living. But because both home and work life share a few common needs, the bathroom is housed in the hyphen.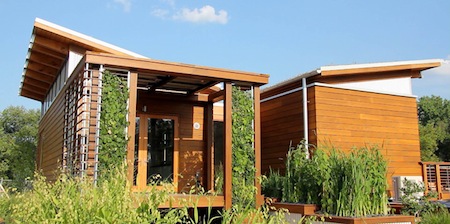 WaterShed features a constructed wetlands area around the house that helps to filter graywater—water from the shower, dishwasher, and washing machine. The house also features a vertical garden wall, a traditional garden, and a composting system that contribute to the holistic approach to living that Maryland's team hopes to invoke with their entry. WaterShed is also designed to be compatible with and comfortable in a variety of climates. Its liquid desiccant waterfall controls humidity, and a system is in place to recapture extra energy generated by the solar thermal array. The house is tightly insulated, with soy-based spray foam insulation in the walls, and translucent panels that let in light but let out less heat than regular windows. WaterShed also has an automation system that can monitor temperature and humidity levels and lighting and adjust them accordingly to maximize efficiency and keep environmental impact low.
WaterShed is designed for a couple looking for a space to both live and work in, which is a popular desire in the Baltimore and Washington, DC, areas. Though there is an upfront investment in the sustainable technologies of the house, WaterShed is an affordable option because as utility prices increase, the WaterShed's costs remain low. A home like the WaterShed also allows residents to telecommute, which would cut down on pollution and expense from travel, as well as alleviate some of the congestion in cities. As of now, Maryland is seeking a buyer for WaterShed, but currently, the house's future after the Decathlon is still undecided.