[Editor's Note: This article is part of our ongoing coverage of Solar Decathlon entries leading up to the event's kick off on Sept. 23.]
Team Massachusetts, comprised of students from Massachusetts College of Art and Design and the University of Massachusetts at Lowell, is bringing the prototype for a super-efficient yet affordable home to the 2011 Solar Decathlon. The 4D Home is a two-bedroom, 945-ft2house designed for a couple in their mid-thirties with young child living in New England, who have an average annual income of about $100,000. The house draws on the New England region and its building tradition for inspiration, evidenced in the gable roof, and the house is capable of adapting to the changing needs of the family, such as the birth of another child.
With the 4D House, Team Massachusetts wants to stress that using renewable energy in building is only effective when the baseline energy use is reduced, and so 4D Home uses passive strategies to cut down on energy consumption. The 4D Home was designed using Passive House Planning Package guidelines. To create a passive home, Team Massachusetts used efficient windows and a superinsulated envelope to maintain temperatures, especially in the bitter New England winters, like blown fiberglass and closed-cell polyurethane spray foam. All of the lights in 4D Home are either compact fluorescents or LEDs, and all appliances were chosen for their high-efficiency performances. The refrigerator, for example, uses about $42 worth of electricity per year, which is less than a 60-watt conventional light bulb. On the roof, a 28-panel PV array of monocrystalline silicon cells provide power, and behind them, a set of hybrid solar thermal panels are mounted to provide heat transfer to the home's hot water system.

4D Home was designed to optimize space while still retaining a small footprint, and its compact form makes it more efficient. The exterior is made of fiber cement board with wood-clad windows. Timber trellises provide shade, and the house. Inside, the layout can be altered to suit the residents' needs by way of sliding partitions. Like the house itself, all of the furniture and decoration was designed and created by members of Team Massachusetts, specifically students from MassArt.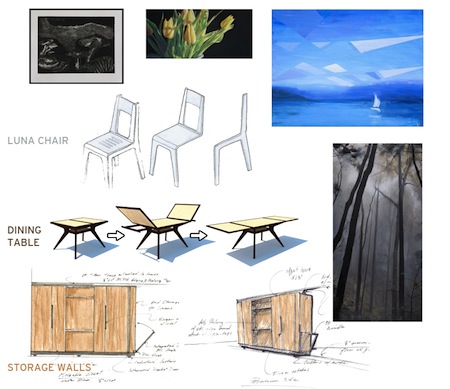 Immediately after the Decathlon, 4D Home will become the home of a New England family, who, in conjunction with Team Massachusetts, will continue to monitor the home's performance. Team Massachusetts hopes that the technology and energy efficiency of the 4D Home will inspire developers in New England to begin constructing sustainable homes in the region.