If you don't have a green thumb, but love your electronics, the Electree could just be the perfect "house plant". The Solar Bonsai Electree was created by French designer Vivien Muller and recently appeared on the Red Ferret tech blog. The bonsai-inspired tree has 27 solar panels at the tips of its branches that capture the sun's rays and uses them to charge your electronics.
Said to be modeled after the photosynthesis that takes place in trees, the amorphous silicon solar panels capture solar energy, which is then stored in the 13 500 mAh battery located under the panel of the bonsai. The tree needs 36 hours of sunshine to fully charge.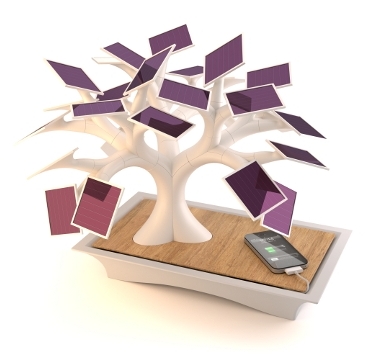 After that, Electree owners can start charging mobile devices like cell phones and MP3 players through a USB connection. The tree should only be used inside and be placed near a window to absorb the most sun possible.
Mister Ecologie and One Development & Consulting is currently pre-selling 400 copies of the Electree that will be numbered and mailed with a certificate. The price tag on the modern, green gadget is 299 Euros, or 403 USD. Shipping is free during the presale. Those who order before Oct. 15,  will receive their tree before Christmas. Just in time to dangle some ornaments off the branches!