It goes as fast as a motorcycle, weighs more than 100 pounds and looks like a downhill mountain bike on steroids, but you can still ride it on the sidewalk. It's Australian-based electric bike maker Stealth's new model, the Hurricane.
The company planned to debut the Hurricane at this year's international Interbike conference and claims their bikes are the world's most powerful electric bikes. The new Hurricane will be available in two models, with competition-mode peak power topping out at 5,000 Watts and a top performance speed of up to 50 MPH while still humming at a quiet 65 DB.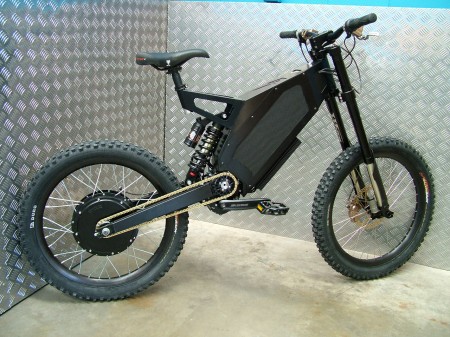 The Hurricane as well as Stealth's other models, the 4,500 watt Bomber and the 3,000 watt Fighter, will be available in new colors, including Camo Grey, Army Green, Space Blue, Jet Black, and Bumble Bee. All Stealth Electric Bikes likewise have new features and options available for high performance suspension, hydraulic brakes, and spare batteries.
The company didn't release Hurricane pricing information, however the Stealth fighter retails for $7,900 while the Bomber can be had for $9,900.