A solar-powered iPad case that charges all of your portables using solar ink — that's the LilyPad, yet another fabulous Kickstarter project awaiting the dedication of your cash.
The LilyPad uses solar ink technology to continuously charge your tablet reader whenever there's sunlight available, be it direct or ambient. The device makes use of an internal battery, too, so all that solar goodness can also be accessed after dark, when you want to curl up and get cozy with your latest e-book. There's also a USB Power Out option, which allows you to charge your phone, MP3 player, etc.–all without accessing a socket.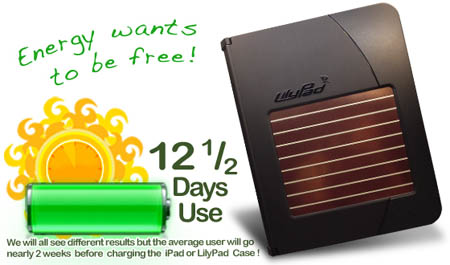 The makers of the LilyPad self-identify as "Angry Bird chucking, smurfberry buying" Zombie Farm-addicted gamers, but they know that not everyone is permanently glued to their tablet; they estimate that the average user should be able to go nearly two weeks (12.5 days) without having to charge their iPad the traditional way (i.e., plugging it into the wall). Some users, they estimate, may even be able to go as long as a month in between conventional charges.
For a donation of $1-164 via this project's Kickstarter page, you can have the satisfaction of knowing you've gotten behind a good cause; for $165 – 234, you'll receive a LilyPad of your own (once they reach production); and for more, you can get your hands on a LilyPad with a travel case, a travel bag, and your name engraved in gold…well, not quite, but close. This device also performs as an iPad stand, and has been certified by Apple.