Croatia's first automobile manufacturer Rimac Automobili has announced specifications of its Concept One electric car, a product we covered only a few weeks ago. While we knew the new vehicle would be called the Concept One, the company had yet to even unveil what the electric car would look like driving around on public streets.
The wait, it seems, was well worth it as the Concept One is a stellar electric vehicle in terms of performance and design. With a 1,088  horsepower output and individual, 250 kilowatt electric motors for each wheel, the new green machine can go from O to 60 miles per hour in just 2.8 seconds, and has a top speed of 190 mph.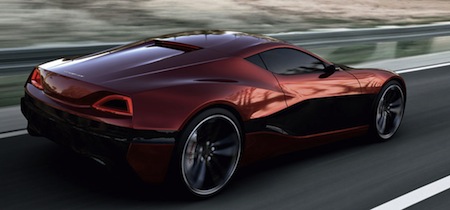 But speed isn't the only shiny feature of the Concept One, fitted with a 92 kilowatt-hour LiFeP04 battery system, the car has an impressive range of over 370 miles, making it a strong contendor against other all-electric luxury companies like Tesla Motors. Weighing just over 3,6000 pounds, the Concept One isn't exactly lightweight, but the powertrain technology clearly gives the car enough get-up-and-go to be one of the top tier electric vehicles ever released.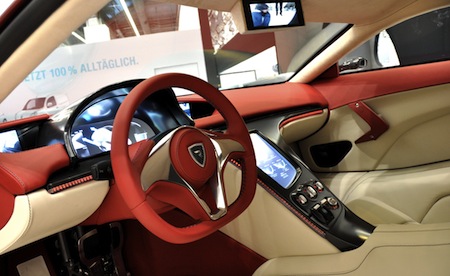 The interior, seen in the photo above, is tailored for comfort and looks to include a rear-view camera display, two side displays for the driver, and an interactive console display, which we assume is for non-essential features like stereo systems and GPS navigation. Although not incredible dynamic or futuristic, the luxury settings should be enough plush for any potential buyer.

Although our coverage of the Frankfurt Motor Show 2011 isn't over yet, the Concept One is most certainly one of the most exciting vehicles we've seen debut at the convention. Rimac Automobili says 88 production models of the Concept One will start to be delivered sometime in 2013. The price? Not listed at the moment, but if you have to ask, we're guessing you can't afford it.
EarthTechling is launching a weekly green deals service in October called Green Earthling Deals. Sign up for the weekly email by Monday, September 19th and you'll be entered to win a custom iPad or iPhone case from the extraordinary designers at Grove. More details can be found on EarthTechling's Contests page.