The nation's largest solar photovoltaic installation on a government-sponsored affordable housing project was recently unveiled in Santa Barbara County. The ambitious project encompasses 21 sites around the coastal California county, with installations involving 250 separate structures, five municipal permitting jurisdictions and three utilities.
The combined 2 megawatts of PV capacity will be owned and operated by the Housing Authority of the County of Santa Barbara (HACSB). The installation is expected to offset the energy consumption of 863 units of affordable housing, including both tenant and common areas, and trim power costs for both HACSB and more than 1,000 low-income families.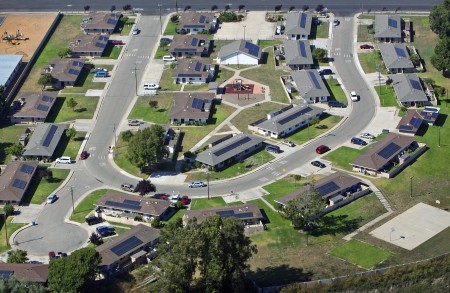 The project consists of more than 7,200 SolarWorld panels, manufactured in nearby Camarillo and in Hillsboro, Ore. The PV systems were installed by Planet Solar, headquartered in Santa Barbara. According to SolarWorld, the HACSB project is the latest in a series of affordable housing projects to feature SolarWorld panels.
In 2010, SolarWorld and Planet Solar collaborated on a 100-kilowatt system for the HACSB, which was the first multifamily affordable housing project involving solar in the Southern California Edison service territory. SolarWorld's panels also produce power for low-income housing projects in Tampa, Fla., and Sacramento, Calif.