In a story we first caught on Gizmag, Fallbrook Technologies, an engineering firm out of San Diego, has announced a new drivetrain unit for e-bikes that allows riders to shift automatically. Called the NuVinci Harmony, the device is said to be inspired by Leonardo da Vinci's variable transition system.
The California company has developed three generations of continuous variable transmissions that, unlike a standard bike, is free of regular gears so that a seamless change in maximum and minimum gear ratios can happen even when the bicycle is stopped.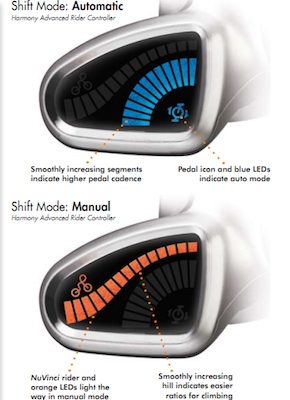 The half-pound NuVinci Harmony works with the company's NuVinci N360 hub, with a ratio range from 0.5 underdrive to 1.8 overdrive, that attaches to the back wheel and can be connected to any 12 – 48 volt DC electric bicycle.
The Harmony comes in two options, one that features a three-preset automatic modes, and one that allows for automatic and manual shifting. According to Fallbrook, the units should start to be fitted to higher-end e-bikes that cost around $3,000 in early 2012.