The term of art is incidental take. It refers to the "harassment, harm, pursuit, hunting, shooting, wounding, killing, trapping, capture, or collection of any threatened or endangered species." Incidental take is in the news now because the Obama administration has given notice that it is evaluating issuing an incidental take permit (ITP) – a free pass of sorts – in a 200-mile-wide corridor from Canada to the Gulf of Mexico where whooping cranes migrate.
The U.S. Fish and Wildlife Service said it was acting at the urging of a collection of wind-power developers – including familiar names like Duke, Acciona, Iberdrola and NextEra – under the banner of the "Wind Energy Whooping Crane Action Group." The service said an ITP, if issued, would "cover regional-level construction, operation, and maintenance associated with multiple commercial wind energy facilities" in portions of nine states, including Montana, North Dakota, South Dakota, Nebraska, Kansas, Colorado, Oklahoma, New Mexico and Texas.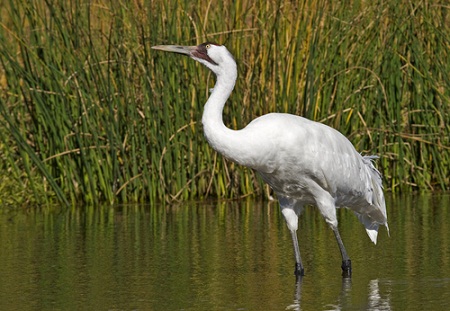 To obtain an ITP, the government said, an applicant must submit "a Habitat Conservation Plan (HCP) containing measures which would minimize incidental take to any species protected by the ESA, including avoidance of incidental take, and mitigate the effects of any incidental take to the maximum extent practicable; and ensure that the taking is incidental to, and not the purpose of, an otherwise lawful activity. If the Service determines that an applicant has satisfied all permitting criteria and other statutory requirements, the ITP is issued."
The government said the species affected could include the endangered interior least tern and endangered piping plover, as well as the lesser prairie-chicken, a candidate for listing under the Endangered Species Act (ESA). But it's a population of whooping cranes that would also be covered by the ITP – Grus Americana, the tallest North American bird – that is drawing the most attention.
According to a 2009 government report, the Aransas-Wood Buffalo Population (AWBP) of cranes, the species' only self-sustaining flock left on Earth, has been making a slow comeback, but still numbers just 247 individuals. So precarious is the AWBP population, the report said, that a rise in mortality rate of a mere three percent annually – as few as eight additional bird deaths each year – would reverse its comeback and spell doom for the species. For its part, the wind industry said it neither wants to nor expects to diminish the whooping crane's long-term prospects, but rather it seeks to "streamline the ESA permitting process, allowing for the compatible goals of effective wildlife conservation and robust wind energy development."
The public has until October 12 to comment on the proposed action (see http://www.fws.gov/southwest/ to download a copy of the notice).