Intro:
In the time that we've been covering home energy management devices, we've not seen anything quite as unique as Visible Energy's UFO. We first learned about the UFO when it flew onto our radar earlier this year. On paper, the UFO came off as intriguing. Here we have a white "flying saucer" that allows up to four electrical devices to be connected and monitored on an iPad or iPhone through a home WiFi network. The concept seemed almost as futuristic as the UFO looked but, as we all know, looks aren't everything. So, we got ourselves a review sample and set about putting the UFO through its paces to learn if it deserves a place in today's modern, energy conscious home.
De-Boxing:
We're all about saving paper here at Earthtechling, but Visible Energy takes the notion to the extreme when it comes to packing up the UFO. Inside the UFO's box was the UFO, a card with safety, legal and warranty information and a separate card simply directing the user to a website for setup instruction. That's it. No user manual or superflous product schwag.
Features and General Impressions:
On the outside, the UFO appears very straightforward: a flexible silicon dome that makes up the top half of the unit can be lifted up to expose four color coded power outlets arranged around a central column. Above each outlet is an LED indicator that glows green when the UFO is plugged in.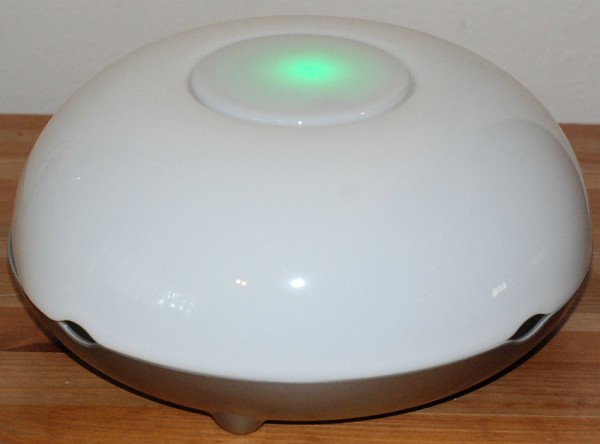 With the dome inverted, the UFO looks like it could double as a serving bowl for snacks at a party; but don't dump the Chex mix in there just yet. Ultimately the dish is meant to be pulled back down in order to conceal the power cords inside. Besides that, the top of the UFO glows green, yellow or red to provide a visual cue for the amount of energy that is being consumed-one of the unit's primary features.
There are four semi-circle cutouts in both the top and bottom half of the UFO where the dome and base pieces meet. Not coincidentally, these holes line up with each of the power sockets located on the central column and are intended for power cable management. This is a strange design point, considering the UFO is meant to be seen alongside the components it is connected to. With such a cable management system, there will be four cables jutting out North, South, East and West of the device which is neither a practical nor an attractive proposition.
It is within the UFO's central column that the real magic takes place. Somewhere inside the column resides a wireless Internet adapter and enough circuitry to monitor energy use for wireless data reporting. The data's final destination is the "Energy UFO" app available for iPhone and iPad.
Set Up:
As previously mentioned, all set-up instructions are located online at one of Visible Energy's website pages. Separate instructions exist for iPhone and iPad owners, which was our first clue that the user experience differs greatly depending on which iDevice is used-more on that during the performance evaluation.
As described by Visible Energy, the set-up process appears very simple. First, plug in the UFO, ensuring nothing is connected to it yet. Next, pull out your iPhone or iPad and select the UFO amongst a list of available "access points" in your device's WiFi setup section. Doing so creates an Ad-Hoc network that will allow you to use the free Energy UFO app available for download at the App Store.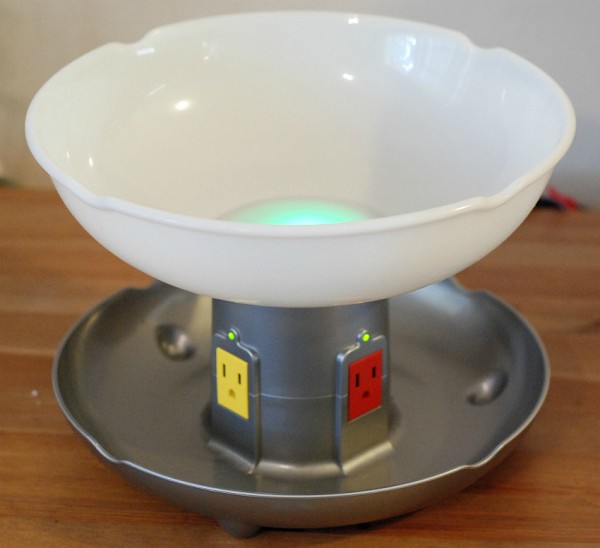 At this point, the Energy UFO app is fully functional, but for convenience, you can set the UFO up to connect to a WiFi network. This setting is recommended for those that routinely use their WiFi router for their iPhone or iPad's internet access.
Set-up seems simple enough, right? Unfortunately, our experience with getting the UFO up and running as plagued with problems.
Part of the issue is that the UFO does not provide its user with any easily understandable feedback about what it is doing or, in our experience, failing to do. It turns out that some settings in our wireless router's firmware needed to be changed but we had no way of knowing that because feedback from the UFO regarding its connection problems was limited to a message on the Energy UFO app that simply stated "it appears you are not connected" (or something to that effect) and to a flashing red LED on the top of the UFO itself.
Ultimately, we ended up speaking with one of Visible Energy's representatives, who let us know that they had a wealth of experience with our particular make and model of router. The support that we got from Visible Energy was helpful, and we eventually got the UFO to make a stable connection to our WiFi network.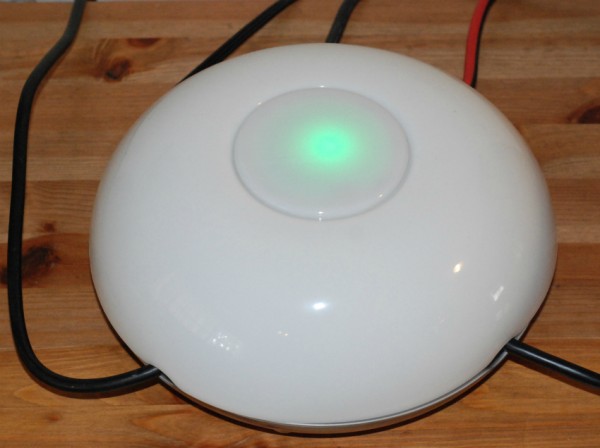 If that was the only problem we had experienced, we'd be willing to chalk our set-up issues up to our use of an older (if extremely popular) WiFi router. Unfortunately, there were other set-up enigmas we had to endure.
The first part of the set-up process requires that you connect to the UFO through an Ad-Hoc network. It is supposed to be as simple as selecting the UFO as the iPhone or iPad's active WiFi connection. However, we were only able to successfully connect to the UFO a couple of times. We never did come to understand why this was and, to be frank, we were so relieved to finally get the UFO connected that we just moved on to testing the product's features.
Also, the location of the power outlets is such that some power cords with right angled plugs will not fit, nor will DC power packs above a certain size. Some battery chargers that we had just couldn't be wrangled into position.
Performance:
Once we got the UFO connected to our WiFi network, we set about customizing some of the options through the Energy UFO app on our iPhone. Since one of our connected devices was an A/V receiver that guzzles power, even in stand-by mode, we altered the thresholds for visible energy use alerts. In this way, the UFO's LED would turn from green to yellow and then from yellow to red only after exceeding 80 and 150 watts respectively. We also chose to dim the LED's brightness down to the "low" setting.
In another section of the app, we were able to specify our cost per kilowatt-hour so that the app could accurately convey our power costs through its interface.
After we made some setting changes, we were prompted to unplug the device, then plug it back in. Sometimes our settings were maintained, sometimes they were not. To add to the confusion, our Energy UFO app was registering the presence of two UFO devices when, we can assure you, we had just one. Because of this, much of the data we got from the UFO app was doubled, so we had to do some mental calculations in order to straighten out all the figures.
We now need to mention that, presently, the iPhone app, when compared to the iPad app, is rather limited. One of the coolest features of the UFO is the ability to set a schedule for each of the outlets. You can set them to turn off at a certain time of night and then power back up at a certain time in the morning, for example. Doing this alone could save one plenty of money by simply stopping the leaching of power through devices in standby mode. Alternatively, one could program the sockets to power up only during off-peak electricity times. There are lots of potential uses. However, for now, some of these features are only available through the iPad version of the UFO app.
The representative we spoke to at Visible Energy assured us a new iPhone app was right around the corner. In fact, we had hoped it would come available before this review had to be written. Unfortunately, it did not, so we'll just have to report that the app Visible Energy has developed for the iPad really is excellent and allows for some pretty amazing control of the UFO and its connected devices.
Conclusion:
While the concept behind the UFO is excellent, we think the execution of the concept needs some refinements if the device is to make it to prime time. Since the UFO is meant to be seen, it doesn't make sense to us that cords would necessarily snake from the UFO in four different places. During set-up, the UFO provides little feedback on its status which makes troubleshooting difficult. Also, until the new Energy UFO app is released, iPhone owners will not have access to some of the UFO's best features.
Ironically, we had suggested this product as a choice for our Father's Day gift guide earlier this year. While we still standby that suggestion, we feel Visible Energy needs to do some work on this product's app and support structure to make it more useful.
The UFO is available for around $100 through Visible Energy.