So many different types of solar gadgets have hit the market in the last year or so that we've found ourselves with a bulging box of solar gear that needs some review attention. Since these devices are relatively simple, it made sense for us to gather a few together for a solar gadget roundup and give each of the devices their own "mini review".
For this roundup, we take a look at the Devotec Solar Sound 2, the Scosche SolBAT II, the Scosche SolCHAT II, all devices that now sell below the original asking price, and determine if these pieces are still relevant in the burgeoning solar gadget market.
Scosche SolBAT II Battery Backup and Charger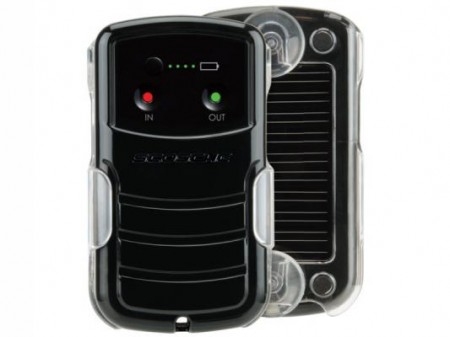 There are now so many different solar battery backup and charging devices available over such a wide range of prices that finding the right one has become a flat-out daunting task. For those looking for a practical, effective and totally affordable entry level option, look no further than the Scosche SolBAT II.
The SolBAT II packs in a 1500 mA battery which can be charged by the sun or by USB. It can charge a phone or other portable device directly off the sun or from the power stored in its battery.
The SolBAT II comes with a cradle and suction cups for fixing it to a vehicle's windshield. A universal carabiner mount is also included- which we found handy for attaching it to a backpack.
We found that about eight to nine hours worth of full sun exposure allowed the SolBAT to store enough power to fully charge our iPhone from 20% to full in about an hour. The device seems ideal as a back-up plan for evening commuters, day hikers and campers. Though it doesn't store as much juice as many of its competitors, we found it stored enough for daily use by a single person. Besides, for around $20.00, one could purchase several and, since it is so compact, plenty can be fit on a backpack or window.
On the down-side, the SolBAT lacks clear charge-status indication. It's red LED lets you know if it is getting enough sun to charge, but says nothing about much of a charge it has stored. Likewise, the green LED lets you know if it is charging a device, but says nothing of how much power it has left in reserves.
Also, one should bear in mind that the device works best when fully charged and expectations of its direct solar-powering capabilities should be kept reasonable. This device will not, for instance, keep a nearly dead phone operational when trying to use a power intensive GPS app.
Scosche SolCHAT II Solar Powered Bluetooth Speakerphone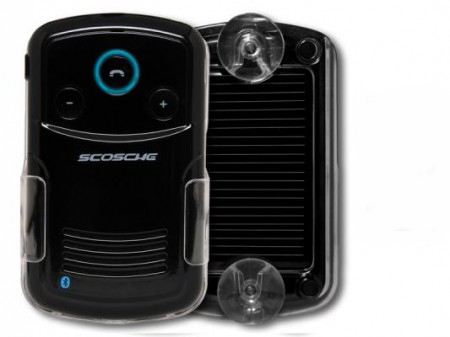 Our favorite device for this roundup, by far, is the Sosche SolCHAT II. It looks very much like the SolBAT II, but this little device works as a Bluetooth speakerphone and is even capable of telling you who's calling by way of voice announced caller ID. With one press of a button, the call can be answered, keeping a driver's hands free to do what they should be doing while operating a motor vehicle.
Just like the SolBAT II, the SolCHAT II can be charged by the sun or via USB and DC. An included car charging cable means that less than sunny days won't make the device unusable.
The SolCHAT worked very well. Caller's voices sounded very clear and people on the other end of the line reported that our voice quality came across loud and clear- i.e., not at all like a speakerphone. The built-in DSP designed to knock out echo did its job very well. In fact, it beat the pants off of most of the in-ear Bluetooth headsets we used.
Prices for the SolCHAT II seem to vary. We've found it for as little as $60.00 and as much as $100.00, so those interested will want to shop around. This device is worth looking into, though, as we found it to be a superior hand-free phone solution. It's ability to run off the sun just happens to be a very welcome bonus.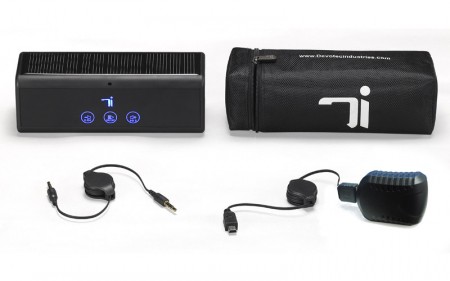 The Solar Sound 2 is, as the name implies, the second iteration of Devotec's attempt to bring a solar powered, wireless Bluetooth audio system to the masses. As far as we can tell, the only difference between this model and its predecessor is a new matte black finish likely designed to ward off finger prints. Otherwise, the device appears to be the same.
The Solar Sound 2 features a large solar panel that takes up its entire top surface. Two,  2 watt, side firing speakers are found on each end of the unit with plastic grilles in place to protect them. Inside the case is a 1600 mAh Lithium-Ion batter which the manufacturer claims can deliver up to 10 hours of continuous playback (which likely varies based on music volume). The speaker also comes with a built-in mic, allowing it to double as a speakerphone if desired.
For times when sun isn't plentiful, the Solar Sound 2 can be charged via USB or AC/DC using supplied cables. Devotec says to expect the device to charge in four hours via USB/AC/DC and between 12-24 hours by sun, depending on level of solar exposure.
Finally, for sources without Bluetooth capability, the Solar Sound 2 offers a standard 3.5 mm mini jack on the rear as an input alternative. A similarly sized line-out jack could allow the speakerphone to function simply as a Bluetooth adapter for a larger stereo system.
Our chief complaint with solar devices is usually centered around chargeability in low light conditions. Fortunately, the Solar Sound 2 seems to charge up pretty quickly; that, or it simply does more with the power it does manage to store. Whichever the case, we were able to use our review sample for over five hours with around six hours of intermittent solar charging in bright conditions.
We placed our Solar Sound 2 on the dash of our vehicle as we made loaded up and travelled to a camping destination. The device didn't always see sun along the way, so it is difficult to gauge how much exposure it actually got. That said, once at the campsite, we put the wireless speaker to work as we unpacked and set up. Later that night, we listened to more music for several hours before turning in.
We left the device in a position to capture the next day's morning rays. Once again, we listened to music for hours on end without ever running out of power. In fact, we never did manage to drain the Solar Sound 2. There always seemed to be enough sunlight available to keep it topped up on juice.
As for sound quality, the Solar Sound 2 delivered sound that was a little below our expectations. Just because the speakers are small (about 1" in diameter) doesn't mean that it is doomed to produce poor sound quality. Unfortunately, the resulting output is a little dirty, especially in the top end. It ended up sounding as if we were tuned in to an FM radio station with poor reception. The sound was there, just not as clean as we'd like to have heard.
The other disappointment was with Bluetooth range. We were able to get our iPhone no more than eight to nine feet away before the signal cut out completely. Bear in mind, too, that this figure was determined in an area where there was no RF interference of any kind-no microwaves, wireless internet routers or other electrical devices to interfere. Other user's results will vary.
The Solar Sound 2 is an excellent idea and, with slightly better sound quality, we might say it earned its $100.00 average street price. However, its dirty sound and limited wireless range keep it from being appealing at price and it is certainly far from being a bargain.