A designer out of Ventura, California has released his home-built electric bicycle that features three power modes, so that a rider can choose a pedal-assist, pure electric motor, or standard biking when traveling. We first caught new of Roy Prince and his invention from the Gizmag blog, and immediately wanted to know more about the DIY project.
Prince has dubbed his vehicle the eCortina v2, as he built another model of the e-bike two years ago, and says he's currently in the process of monitoring and testing full performance specifications. As far as looks go, the bike, seen in the photo below, is fairly sharp, and features two BMX style freewheels so that the electric motor can run without forcing the pedals to rotate.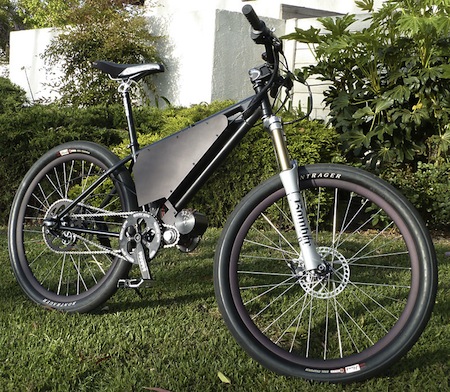 The eCortina v2 is powered by a 48 volt lithium polymer battery system, which theoretically gives the bike a range of approximately 15 miles, however, Prince is hoping to fit additional batteries to the electric vehicle this summer to boost the range to 23 miles.
Prince says his eCortina v2, which features a 3 speed rear-hub for gear optimization, and radio controlled, brushless magneto-electric motors, weighs roughly 60 pounds, but can reach an impressive top speed of 45 miles per hour. The eCortina v2 is for sale, however, there is only one and Prince isn't listing the actual price, instead asking interested parties to contact him directly via his website.