Eyal Melnick, an industrial design student in Tel Aviv, Israel, has posted his designs for an adjustable electric motorcycle as part of his graduation project at the Shenkar College of Design and Engineering, and his work is incredibly well-crafted.
Calling his e-bike the Shavit, Melnick has created a short video of the bike, a physical, full-size three-dimensional model, and almost forty different images of his concept, which we hope is enough to give him a passing grade. The Shavit can start out in the "touring" setup, with the seat and handlebars about flush with one another, but then shift to the "sport" setup where the seat is raised, along with the footpegs, and the handlebars lowered, giving the bike and rider a more aerodynamic shape.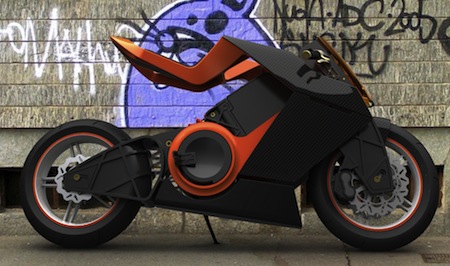 As the e-bike is only a concept, there aren't too many specific details, although the designer notes that the motorcycle has a roughly 54-inch wheelbase, weighs approximately 375 pounds, and can produce 180 horsepower. Those specifications are fairly close to other real-life models we've covered here on EarthTechling, such as the e-Moto, which weighs 320 lbs and produces 95hp.
The vehicle would probably be equipped with a lithium-ion battery system; the proposed 180hp may be a bit much, however, as bikes from Oregon-based manufacturers MotoCzysz and Brammo, two leaders in the field, do not produce bikes with that much power. Still, we did covered a custom-built unit earlier this year that produces an impressive 240hp, so the technology is available.