We've seen some fine examples of renewable energy generators as art projects, such as those featured in the United Arab Emirates' Land Generator Art Initiative, the Power Flower wind turbine, and the Solarflora. But the Virtue of Blue chandelier may reach a whole new level of cool.
Dutch designer Jeroen Verhoeven's solar powered chandelier (which comes to us via Greendiary) makes use of a cluster of blue multicrystalline silicon solar panels cut in the shapes of various sorts of butterflies.  When the sun is shining, all those "butterflies" soak up solar radiation; at night, they provide power to a central, hand-blown glass bulb, their iridescent wings glinting in the light.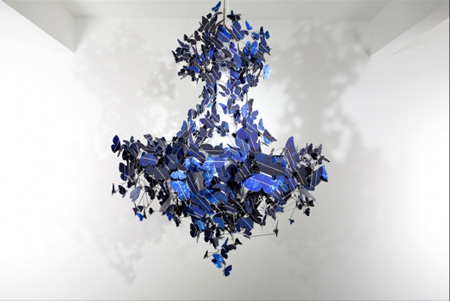 The designer envisions Blue Virtue as playfully exploring "an economy of light" through innovative materials. He also sees the choice of butterflies as highly significant, as butterflies use their wings to absorb the rays of the sun, in turn raising and sustaining their own body temperatures to levels necessary for their survival.
This art installation is currently on display in London, in collaboration with the Blain Southern gallery's show, "The Curious Image," where it will remain through the 16th of July.