These days, when we see the term "extreme" applied to something we expect it to be over the top, unnecessary and sometimes just plain ridiculous. In this case, however, "extreme" might just turn out to be a good thing. UK-based portable power company Powertraveller has recently improved on its powermonkey-eXplorer device-a move the company says is in response to customer feedback-and the results are looking pretty good.
Perhaps the most notable feature of the device is its super-sized lithium polymer battery. Rated with  a capacity of 9000mAh, the battery is reportedly capable of charging an iPhone six times over before depleting its power reserves. That's pretty extreme. But, with great power comes great responsibility and by "responsibility" we mean lengthy charge times. To solar charge the mammoth battery to its capacity, expect to give it 15 hours worth of direct sunlight-a two day proposition at best.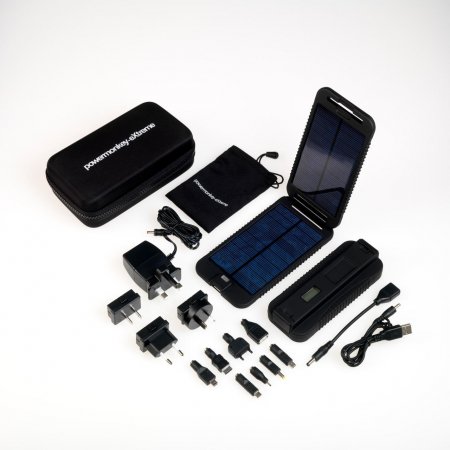 Fortunately, as is the case with many other solar chargers, the powermonkey-eXtreme can be charged via USB or straight off the wall.
Other features that strike us as appealing are a charging cable designed to charge an iPad more quickly, a super durable shell that lines both the flip-phone shaped solar panels and the battery unit, the small LCD screen which clearly communicates charge and charging status and the fact that the whole device is meant to be waterproof for up to 30 minutes at depths of up to 3.3 feet of water. The rugged design seems smartly designed to handle the real-world scenarios likely to be encountered in the extreme wilderness.
The device appears to be available in five extreme colors including black, grey, blue, yellow and orange. There's also a pretty nifty case included with the device as well.