Perhaps the most comprehensive residential/small business solar power kits to hit the consumer market since Costco's introduction of the Grape Solar panel kits has just been introduced by Kyocera Solar. The company says its panels and all other associated components that make up its "MyGen" kits are sourced from companies that have U.S.-based manufacturing operations, thereby meeting  "Buy American procurement provisions."
Kyocera says its kits include everything, right down to the last nut and bolt, necessary for installing a fully functioning, grid-tied solar electric system to the roof of a home or small business. The company offers 4 residential kits ranging from 2,520 watts-7,560 watts  STC (standard testing conditions) and 3 "lite commercial" packages ranging from 5 kilowatts to 15 kilowatts STC. All of the kits use Kyocera's flagship model solar panels and come with all other necessary components including inverters, racking, monitoring, grounding, user manual, drawings needed for permit acquisition, and all of the other minor components needed to a fully install a solar system. The systems are grid-tied and designed to be expandable.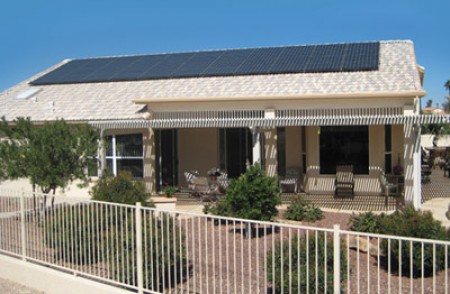 Kyocera also provides a comprehensive "Solar PV Calculator" tool at its website that enables those considering a solar power system to get an idea for what sort of system may best suit their needs, provides location specific information on available state and federal tax credits and other incentives, and a graphically based cost/savings calculator based off of local utility rates and/or feed-in tariff programs. From there, Kyocera provides links to local dealers of its solar kits.
While professional assessment and installation comes highly recommended by those in the solar power industry, Kyocera's kits appear to be comprehensively packaged so that anyone could install a solar power system at their home or small business on their own. The fact that the kits seem to be manufactured in the U.S. also comes as a bonus to the national economy and job market. Pricing information, however, was not mentioned.