SolarCity, a company making a name for itself in the residential solar power landscape in part because of its financing options offered to those interested in solar panels for the home, got a nice, fat $280 million boost from Internet search engine giant and now major clean energy player Google today. The announcement is just the latest in Google's green energy moves.
Google and SolarCity said the former will invest the $280 million into a fund to finance residential solar projects, and is the first such venture between the two. This is also said to be Google's largest investment to date in the clean energy sector, which totals now somewhere around $680 million. As for SolarCity, it isn't the first investment others have put into it – it has now created 15 project funds with seven different partners to finance $1.28 billion in solar projects, showcasing the fact that solar energy is something more and more consumers look to be interested in (or at least that there is a perception of interest existing).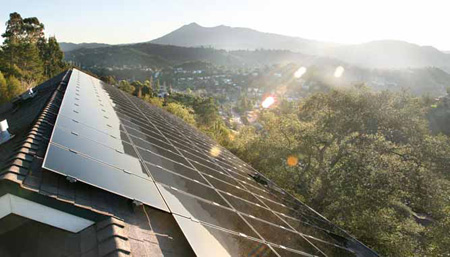 SolarCity said the funding "will extend solar lease and power purchase agreement options to customers who desire to have solar panels installed on their homes, but do not wish to make the larger upfront investment to purchase the systems." The company currently does business in Arizona, California, Colorado, the District of Columbia, Maryland, Massachusetts, New York, New Jersey, Pennsylvania and Texas. It also has more than 15,000 solar projects completed or underway, with more than 12,000 of those customers having chosen to use the financing options, while 3,000 have purchased their systems.
Google, for its part, stated on its corporate green blog regarding this investment that "we think 'distributed' renewable energy (generated and used right at home) is a smart way to use solar photovoltaic (PV) technology to improve our power system since it helps avoid or alleviate distribution constraints on the traditional electricity grid."
EarthTechling Reader Appreciation Week is June 13-17.  We're giving away awesome green gifts to Facebook fans and newsletter subscribers.  Participate in the green goodness by joining our newsletter and Facebook communities.