What may end up being the largest roof-top solar installation in North America is coming from a singularly unexpected source. Toys"R"Us may be all about fun and games, but when it comes to solar power, the company is not playing around. According to a recent Toys"R"Us statement, the company intends to install a huge solar array on top of its distribution center in Flanders, New Jersey.
When completed, the solar power system is expected to have a capacity of 5.38 megawatts.  The installation will occupy 869,294 square feet and is estimated to generate 72 percent of the distribution center's electrical needs.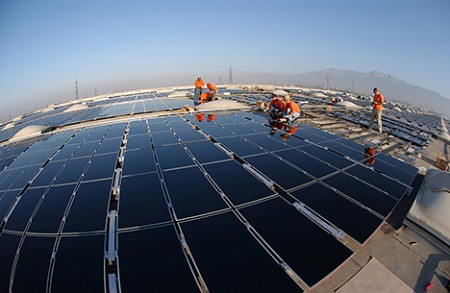 Seventy percent of the building's roof is to be covered with 37,000 Uni-Solar solar panels provided by United Solar. When the system is up and running, it is expected  to produce approximately 6,362,000 kilowatt hours of electricity each year- roughly enough to power 532 homes annually and avoid the equivalent of about 4,387 metric tons of carbon dioxide-depending on weather.
Constellation Solar will build, own and maintain the  system while Toys"R"Us will purchase the electricity generated by the system through a 20-year power purchase agreement. The planned installation dwarfs some other notable roof-top solar installs, including Boeing's South Carolina assembly building and Ikea's Brooklyn location.