Spring is here and, for home owners everywhere, that means weekends will probably involve mowing the lawn. While many of us still cling to our gas powered mowers, a growing group of grass cutters have transitioned to electric or battery powered lawn mowers to manicure their lawns. For the latter group, may we suggest a little weekend DIY project that could save you some money while beautifying your landscape?
Check out this Instructable for a solar powered lawn mower. The author indicates that all one needs to convert their battery powered to run off the sun is a 12 volt solar panel, some electrical wire, a couple of 12 volt cigarette-lighter plugs, a multi-meter and some basic tools (the author used his Leatherman.)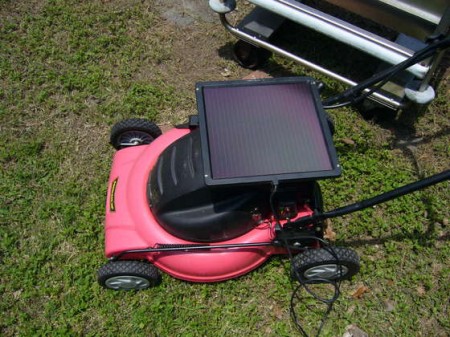 The process for adapting the mower appears remarkably simple. In about the same time it takes to mow a lawn, a mower can be converted such that it may never need to be connected to an electrical outlet again (weather permitting, of course). In the photo, the solar panel is pictured on the mower, but the author says this was done simply for the sake of photography. The solar panel could be placed as far away from the mower as is desired.
The author of the DIY guide indicates that it takes 4-6 hours on average to charge the battery in his converted mower. Fully charged, the mower can apparently run for 30 minutes on its mulch setting. Longer, if the grass is being bagged.