Westinghouse Solar has announced a new solar product that the company says is ideal for commercial buildings and other flat roof situations. The system Westinghouse created combines its new 235 watt high efficiency solar panel with a new lightweight, aluminum and stainless steel flat roof mounting system.
Westinghouse says the system provides a couple of real benefits for both commercial building owners and solar system installers. First, the system is "non-penetrating". Mounting and securing the system apparently requires no holes to be drilled into the roof. No holes means no potential for leaks and no voiding any warranties on the roof.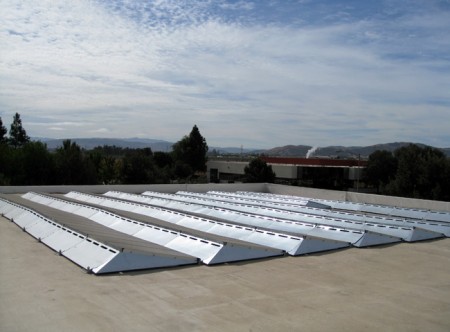 The second benefit is the system's resilience to wind. Westinghouse put the new mounting system through its paces in a wind tunnel and made the system as aerodynamic as possible. Since it is wind resistant, less ballast weight must be used to secure the mounting system. In fact, Westinghouse says its new product is "the industry's lightest fully integrated rooftop system with a total weight of 2.7 pounds per square foot."
The company says that the panels are pre-engineered at 5 degree angles, which allows them to be shipped flat. The system is available right now in the US and should be available in Europe and Asia sometime in the third quarter of this year.