A new electric bicycle is set to enter the market later this year; called The Voltitude, the beautifully designed product comes out of Switzerland and was recently hailed by the Yanko Design Blog. The foldable bike is heavily inspired by the famous style of the Swiss Army Knife, and is elegantly minimal in its overall look.
55 inches long, from wheel to wheel, and almost 40 inches tall when unfolded, the bike contacts to 24 inches wide and 35 inches tall when compacted for storage. While the vehicle does have pedal assistance, it's really more of an electric scooter than a bicycle.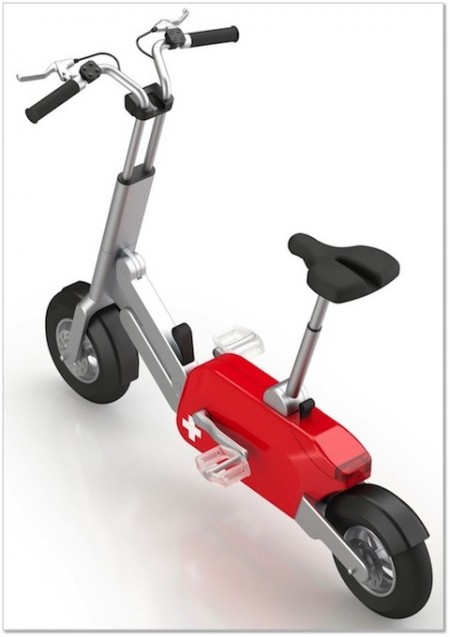 Weighing around 50 pounds and coming equipped with a 250 watt, integrated motor powered by a 36 volt lithium-ion battery, the Voltitude has a top speed of just over 15 miles per hour, and a range of almost 25 miles on a full charge and under ideal conditions. The battery can be plugged into a 110 or 240 volt socket, and takes roughly four hours to reach 100%.
The bike is currently only available to purchase in Switzerland, and only in limited quantities. The company has yet to release a public price for the bike, but expects to have a final price and online, worldwide shipping available at the end of this year.
EarthTechling wants your opinion! Take EarthTechling's 3-minute reader survey and enter to win a $250 Amazon gift card.  The 2011 survey closes on April 15, 2011.