Oregon-based electric vehicle manufacturer Arcimoto unveiled its SRK prototype called the Red 5 in Eugene this past weekend.
We've been covering news of the company since a version of the Pulse first made a visit to Portland back in 2009. The three-wheel, two-seater electric vehicle is available for pre-order reservation with a $100 deposit, and comes in a variety of options including open, fabric, and hardshell enclosures.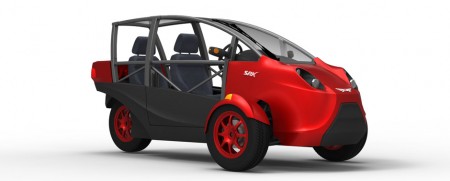 With the 144 volt lithium-ion battery pack upgrade, the SRK has a range of 80 miles on a full charge, and is equipped with an 83 horsepower, synchronous DC brush motor. It has a top speed of 60 miles per hour. It's hard to say whether or not drivers will embrace the somewhat strange design and tandem-seating style. As far as pricing goes, Arcimoto told us it doesn't have a final price set right now, but the target base price is $17,500.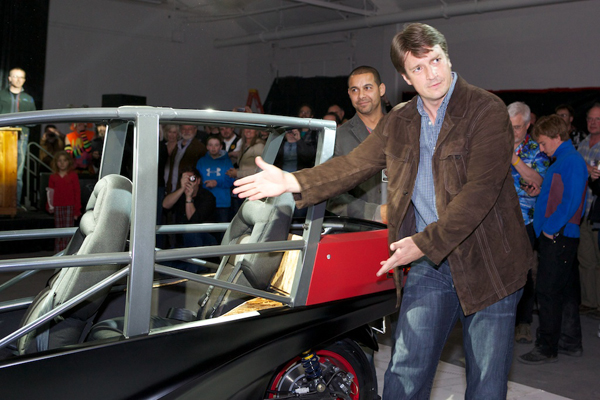 The car has at least one major supporter, television actor Nathan Fillion, who drove one of the electric vehicles to the Video Game Awards last year. As you can also note from the photo above and video below, which Red, Blue and Green mentioned, he and fellow Castle actor Jon Huertas were present at the vehicle's unveiling.  Fillion had this to say to the crowd gathered:
Thank you. Thank you so much for simply yet so radically revolutionizing the auto industry, an industry that has seen so little change in the last century. Thank you for making a cleaner vehicle for which the energy infrastructure already exists.

Thank you for seeing a need facing a mere 90% of the population, and filling it. Thank you for giving me a way to stick it to big oil and big auto companies. Because… I am a vengeful man. And they've been sticking it to me for a long time. No matter how old I get, I don't think I'll ever get tired of the fact that it looks a little like a spaceship. I'm kind of into spaceships, so thanks for that.

Thank you for keeping it in Eugene. Thank you for taking this venture upon yourselves, through the long hours of hard work, the sacrifices that you and your families have endured. Ladies and Gentlemen, you of Arcimoto have done something amazing and I hope that you are proud.

P.S. Last time I was here I think I left my iPhone charger in your offices, give me a call if you find it.