It harvests solar energy in the winter, when you need it, and shrugs it off  in the summer, when you don't. It stands strong and steady during earthquakes. And it floods its inhabitants with sunlight, allowing them to "blossom." Can you tell we've got a little thing for David Fanchon's eco-friendly Pearl dome house?
This home (which comes to us via Gizmag) features a unique half-glassed dome design built around large bay windows. Due to its passive solar orientation, these windows trap the long rays of the winter sun (which circles closer to the horizon), bringing heat into the house. In the summer, the rays of the sun directly overhead are partially blocked by the white steel roof, minimizing solar gain.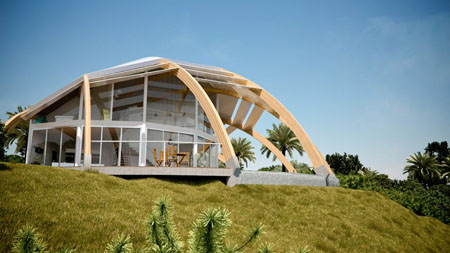 The curvature of wood and steel supports helps to protect the home in the event of earthquake–the roofing shell can be insulated with a layer of air and cork beads, and external walls are made of 12″ thick compressed straw. The home features solar panels that adjust automatically to take best advantage of the sun and can incorporate geothermal and wood pellet fed heating systems.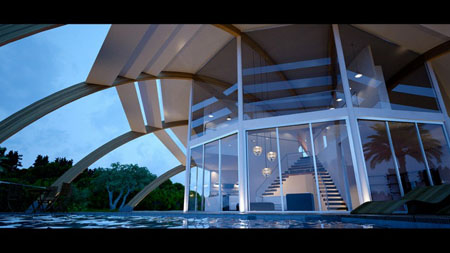 As for the interior of the home, it has an open layout style that the designer notes "allows light to fill the entire house without any obstruction giving its inhabitants a full 180º panoramic view. Every room gets its due share of sunlight; making this a pleasant environment for all individuals to grow and blossom." Sure sounds nice.
We hope you are enjoying the green technology news and insight provided by our dedicated editorial staff. If you do, please take a moment to help us spread the word by voting for us as Best Environmental Sci-Tech blog in the annual Best of Green 2011 TreeHugger awards. Voting ends on April 1, 2011. Thank you!