Here in the US, it is easy to take our power supply for granted. On a daily basis we enjoy the convenience of simply plugging things in and getting power and, for many of us, that happens without necessarily thinking about where the power came from or how it got delivered to us. Being powered up is the status quo, so thoughts about our energy infrastructure aren't often top of mind.
But, in the face of the earthquake and tsunami disaster in Japan, we are forced to face the reality that, some day, our existing energy infrastructure may literally come crumbling down around us. It might be a good idea to start planning some private alternative power sources for emergency purposes. With that in mind, we tend to look at this new piece of solar technology, (noted by the folks at The Green Optimistic),  from Japan's OS Co. a little bit differently.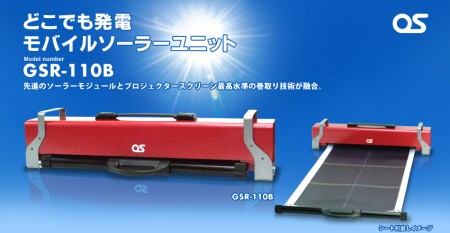 OS Co. calls it "Mobile Solar Unit model: GSR-110B". It isn't a particularly catchy name, but what it does may catch on very quickly. It is a mobile solar power unit with a retractable solar panel and a built in rechargeable battery that, when operated together, produces 40 watts of clean solar power – 24w from the battery and 16w from the solar panel. The device weighs about six pounds and is intended for use in outdoor events, while camping or, as the company says on their website, at disaster camps – which, right now, seems pretty serendipitous.
The $275.00 device seems to be only available in Japan, but that's a pretty good place for it to be at this moment. Ideally, this mobile solar unit is busy helping to save lives in some fashion. Later, after the dust settles, we may see a lot more of this sort of technology coming our way.
We hope you are enjoying the green technology news and insight provided by our dedicated editorial staff. If you do, please take a moment to help us spread the word by voting for us as Best Environmental Sci-Tech blog in the annual Best of Green 2011 TreeHugger awards. Voting ends on April 1, 2011. Thank you!