For many, commuting to work via bicycle is the ideal, but getting there via some form of motorized vehicle is often the reality. A mode of transportation currently working to close the gap is the electric bicycle, which has been gaining popularity in recent years all over the world.
Electric bicycles–or e-bikes–make use of one or more small electric motors to provide propulsion, mounted either on the frame of the bike on in the wheels themselves.  The two major types of e-bikes are pedal-assist only (known as pedelecs in the European Union, and elsewhere as electric assist) and power-on-demand. The former responds when both the wheels and your pedaling slow down, due to an increase in elevation or simple cycling fatigue, to provide an electric "boost" where and when you need it. The latter can provide scooter-style transportation without pedaling if you choose–often via a handlebar throttle–but may also be pedaled for added efficiency, increased range and climbing capabilities.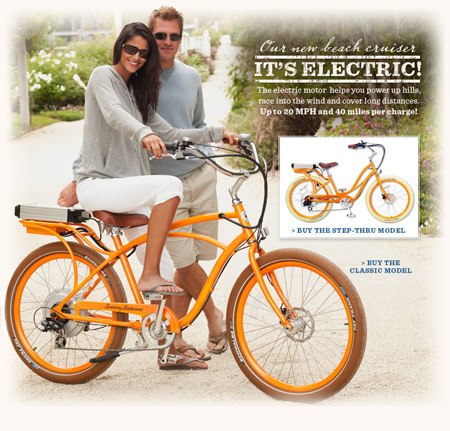 Pre-assembled, factory-direct electric bikes are available from a growing number of manufacturers, including Currie Technologies,  Greenlight Bikes, eZee, Revolve and Pedego. In recent years, recognized names like Sanyo and Volkswagon have started to introduce their own lines, as well (there's even a Tommy Bahama-branded electric beach cruiser).
E+ Electric Bikes also offers clients e-bike conversions for some of the top names in traditional cycling, including Trek, Cannondale, Schwinn and Surly.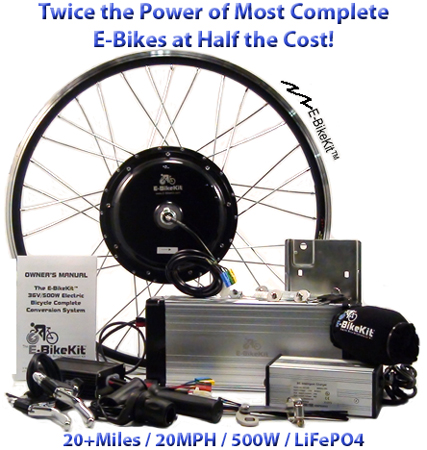 If you're more the do-it-yourself type, a wide range of electric bike conversion kits are available. For around $1,000 (around $500 less than most pre-assembled bikes, which run between $1,500 and $6,000, on average), kits such as the E-BikeKit will turn your own trusty city bike, cruiser, or mountain bike into an electric. (If cost is your primary concern, there are also direct-from-China options online for around the same price.)
Which types of electric bikes are currently the most popular? Larry Pizzi, President of Currie Technologies, told us, "While [do-it-yourself kits] are popular amongst hobbyists, we find that most consumers would prefer to have an e-bike that was function-built." He also notes that mounting conversion kits to a standard bike yourself generally voids the manufacturer's warranty.
Among Currie Technologies' Ezip and Izip models, he notes that the most popular models in the US over the past year have been those that offer the rider both power-on-demand and pedal assist capabilities. "We find that many Americans like the twist and go, throttle option," he told us, "but after riding a bit, they begin to appreciate the pedal assist functionality for ease of use, comfort and improved range."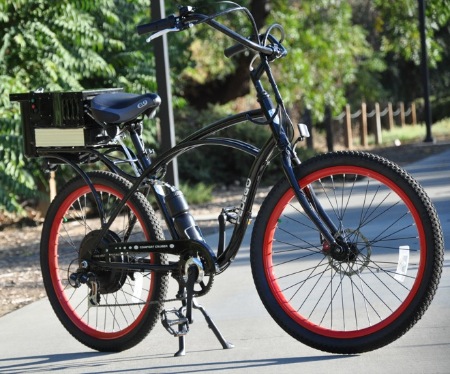 When considering an electric bike, there are some key factors to consider, chief among them being what your new bike will be used for. E-bikes, like regular bikes, are function-specific, so if you need a commuter bike for city streets, an off-road bike for weekend adventures, or some combination of the two, you'll need to keep that in mind. If you're planning on using your new bike to commute to work, you'll need to determine the total distance you will need to travel on a single charge.
Unfortunately when it comes to electric bikes, the weight of the rider does matter–as does the steepness of the terrain between that rider and his or her desired destination–so bear these factors in mind when considering motor size.
Because these factors can dramatically influence performance and range, Pizzi strongly recommends discussing your purchase with a full-service e-bike retailer (rather than ordering, sight unseen, online) in order to make the best match, and test-riding any e-bike you're considering with an eye toward comfort and ergonomics. For those interested in replacing their automobile with an electric bicycle, he also recommends talking with a representative about an e-bike's load-carrying capabilities.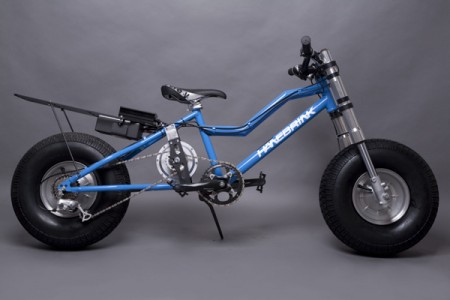 If you're more interested in an electric bicycle as a complement to your automobile, or as part of a daily commute involving public transportation, another option to consider is a folding e-bike. These lightweight models are designed to fold up and carry easily when you hop on the bus or walk down crowded city streets, and to conserve space during storage (such as in the trunk of a car). Some models fold up smaller than others, but all are either power-on-demand, pedal-assist or some combination of the two, just like a regular e-bike.
If you spend long hours away from home and your electric bike is your transportation mainstay, another option to consider is a bike that provides power for your portables, the way a car-charger would, such as the Shadow E-Bike. This bike features a unique wireless braking, throttle and pedal assist system that delivers electricity directly to lithium batteries housed in its wheels, which can also be used to power up your cell-phone, MP3 player, or even laptop on the go.