In a city known for its sustainable development practices and governmental policies, Portland, Oregon's Water House stands out as a beacon of green home creation. That's what city government and city commissioner Randy Leonard would have you believe. This pet project of the city's Water Bureau, which Leonard oversees, has raised eyebrows for some after a recent piece in The Oregonian hinted that extra green credit line items like this were "why Portlanders pay the country's fifth-highest utility bill — and why they're so upset about it."
The article drew a response from Leonard, who said in op-ed piece that "the construction of the Water House by the Portland Water Bureau provides a living demonstration of ways in which we can conserve more water and gives us one more tool to protect one of our most valuable resources.."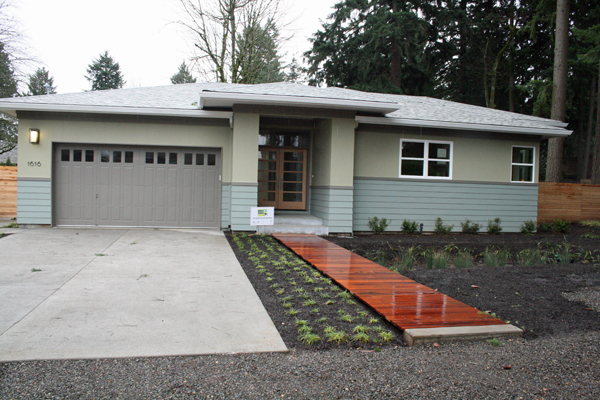 We raise the spending issue up front because Portland's Water House, which the Water Bureau spent over $400,000 to build, also included "contributions of products and labor" totaling over $150,000 from over 30 local green companies that were not, according to Water Bureau press contact Jimmy Brown, paid for by Portland. We believe this to be a strong example of public/private collaboration in the clean economy sense. It is designed to showcase to local residents the kinds of green building they can do for their homes – be it renovation or new development – by making use of various green and sustainable products and services, many of which can at least be purchased locally. Some are even designed locally as well.
All of this hopefully inspires local residents to invest dollars into local companies which (1) supports the local economy and (2) makes the planet a little greener.
The Water House, from a pure green building stand point, reportedly will be the first EPA WaterSense-certified home in Oregon. WaterSense is a federal program designed to make homes at least 20 percent more efficient when it comes to water use. The home is also both certified Earth Advantage Platinum and Energy Star, meaning it is extremely energy efficient when it comes to a list of features such as high efficiency appliances, spray in-place foam insulation and a ductless heat pump system.
All images in this story copyright EarthTechling
The photo gallery above showcases various aspects of the media tour given to us by Dan Saddler, formerly from the Earth Advantage Institute, a local organization that works with builders and developers to bring the most energy efficient and sustainable green construction to the market. Saddler, in addition to pointing out the energy and water conservation features of the Water House, also detailed healthy indoor air items, such as a HRV/ERV ventilation system and hard surface flooring, which make this house a cleaner environment to live in.
For those who live in Portland, the Water House will be open in coming months for various community open houses, as well as related workshops. It is located in the Russell neighborhood of outer NE Portland. We encourage people to tour the home for themselves to make a decision first hand on whether or not this public/private collaboration was money well spent for a cleaner tomorrow.