SolarReserve is a step closer on another of its utility-scale solar power projects that would use advanced heat storage technology to make it possible to produce power during cloudy periods or after dark, after the Arizona Corporate Commission approved a 150-megawatt (MW) capacity plant outside Gila Bend, Ariz.
The Crossroads Solar Energy Project would use the same technology that SolarReserve is intending for the Crescent Dunes plant in Nevada and the Rice plant in California: Mirrors bounce sunlight at a giant tower, and molten salt flowing through the tower absorbs the heat from this sunlight. The salt can then store the energy for up to eight hours, according to SolarReserve. A chief benefit of the technology is in extending energy production well into the evening during peak-use summertime periods.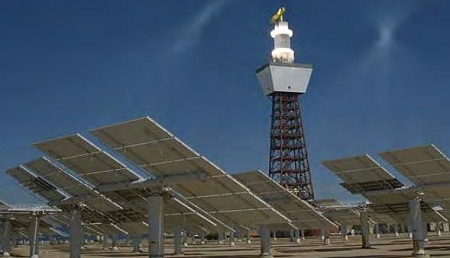 SolarReserve said the Crossroads project is set for "privately owned and actively cultivated land" west of Gila Bend. The company expects it to produce 450,000 megawatt hours annually, enough to power up to 100,000 homes during peak electricity periods.
As the Phoenix Business Journal pointed out, SolarReserve doesn't yet have a buyer for the power the plant would produce. Without such a deal in place, financing the project – estimated by SolarReserve at some $500 million – could prove difficult, especially as less-expensive photovoltaic projects gain favor. Late last year we saw K Road Power switch the proposed Calico solar plant near Barstow from concentrating solar to photovoltaic.