What's the greenest small town in America? If you're thinking it must be somewhere famously eco-obsessed–such as northern California or the Pacific Northwest–think again. Every city building in Greensburg, Kansas, population 900, is LEED certified. What's more, Greensburg has its own community wind farm, which is said to produce 100% of its power.
It all began late in the evening of May 4, 2007, when a monster tornado 1.7 miles wide and moving at 205 miles an hour flattened this small town on the southwest Kansas plains, totally destroying its infrastructure and a vast majority of its homes and buildings. Thanks to an emergency announcement by the National Weather Service in Dodge City, the citizens of Greensburg had 20 minutes to evacuate, but the devastation brought by the tornado was still a huge blow for a town of this size.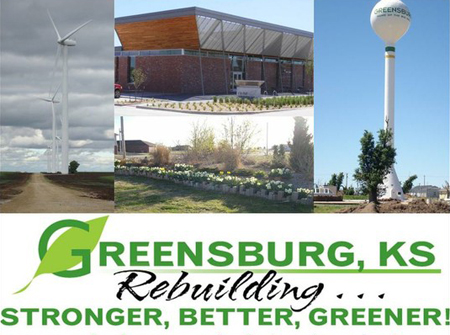 After the disaster, the mayor, city administrator and president of the city council–initially meeting in tents–all had the idea to re-build the town in a sustainable manner, a concept which found support from the office of Kansas' governor at the time, Kathleen Sebelius. As a result, the members of the Greensburg City Council, with the help of the U.S. Department of Energy, made a monumental decision: to rebuild all of Greensburg's muncipal buildings to LEED Platinum standards, the highest standard of environmental stewardship in building design as designated by the U.S. Green Building Council. They passed a resolution to that effect, said to be the first of its kind in the country–and miraculously, every one of Greensburg's residents and businesses followed suit. Today, all but one building in town is certified LEED Platinum, and that one, a city shop, is certified LEED Silver, according to the Dodge City Daily Globe.
Currently, Greensburg is said to have more LEED Platinum buildings per capita than any other city. But perhaps just as significant is the fact that , according to the Daily Globe, wind power reportedly provides for 100% of those buildings' electricity needs. Greensburg's community wind farm–built to take advantage of the Great Plains famous sweeping gusts–consists of ten turbines that have the capacity to generate way more than enough energy to meet this small town's energy usage, which is reduced anyhow when you consider how energy efficient many of its buildings are.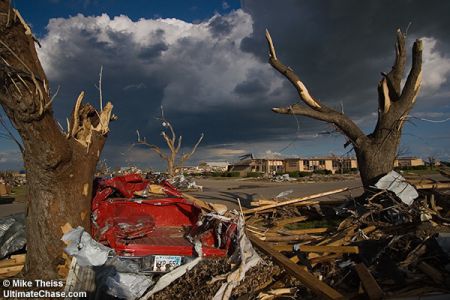 Because they were built to such high environmental standards, many of the town's buildings feature geothermal heating and cooling and were built with healthy building standards in mind as well (i.e., they contain no volatile organic compound paints and adhesives). The streetscapes downtown were designed to make the most of natural resources, as were the community's LED street lights.
All of which may lead you to ask–why do so many people in the little town of Greensburg, Kansas, seem to care about the environment? In an attempt to get a handle on this, we talked to Daniel Wallach, Founder and Executive Director of Greensburg GreenTown, a nonprofit that formed in the wake of the '07 tornado. He and his wife, Catherine Hart, started the organization to provide education and support to local residents and businesses in "building back green," and have worked side by side with city and county officials, local residents and business owners to help craft and carry out the vision of Greensburg as a model green community.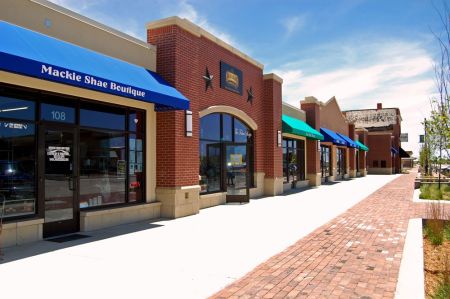 When asked why nearly all of Greensburg's residents chose to build back to such high environmental standards, he highlighted the history of the region as a key factor. "People out here on the plains are descendants of pioneers and homesteaders who were deeply 'green,' they used windmills to bring water out of the ground, built with solar orientation to optimize heating in the cold months and materials used to build their shelters were of the earth. They farmed and hunted and lived off the land."
He added that Greensburg's residents have strong values in the way of  thrift and conservation. "They were the original recyclers," he said. "Materials weren't wasted and scraps were saved and reused."
Another factor was the town's combination of self-image and economics. Greensburg, founded by a stagecoach driver in 1886, is a rural farming community that traditionally relied on the oil and gas industry for its economic base. But like so many communities in rural America, the town was dying. Wallach points out that building back green was a way for Greensburg to define a new, modern identity, and to become a national leader.
"Finding new meaning and a new identity made sense," he told us. "And this identity is all about community and common sense."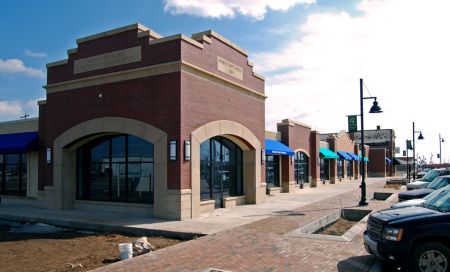 Is Greensburg an island of green in the state of Kansas, or is it part of a larger regional movement towards sustainability? "In some ways the community is out front," he told us, "but it is catching on all over." Rather than being a trend or fashion, he believes, sustainable living is all about common sense, and living in a way that honors the future.
He goes on to note that it is also economically a much better choice in the long run, as saving energy is saving money, and building better, more durable buildings keeps dollars in the community that would otherwise leave in the form of utility bills.
Currently, Greensburg is up for Budget Travel's "America's Coolest Small Town" contest, which is still taking votes. (The town is currently ranked 11th on website–if it makes the top ten, it will be featured in the magazine.) Those interested in seeing sustainable small town Greensburg for themselves are encouraged to visit the Silo Eco-Home and Green Visitors Center, a residential-designed building with a bed and breakfast as well as booklets and information for self-guided tours of the area's "Chain of Eco-Homes."