The market for electric bicycles expanded this month with NYCeWheels announcing a battery-powered version of their Brompton folding bike. Similar versions have been available in Europe for years, but the latest American model has been modified to be more powerful. Unlike the European model, the new Brompton bike does not require pedaling to start, and is instead throttle operated. As well, the American version has a larger battery and motor to provide faster speeds necessary for inner-city traffic.
The appeal of the Brompton electric bike rests in its compact design. As more and more people are looking to save money on gas, or simply changing their comute to use alternative, eco-friendly transportation, biking in the United States has become a respectable way for professionals to get to work. One of the biggest drawbacks to biking, however, is storage. Thankfully, the Brompton can fold down to a size that comfortably fits in most offices or cubicle spaces.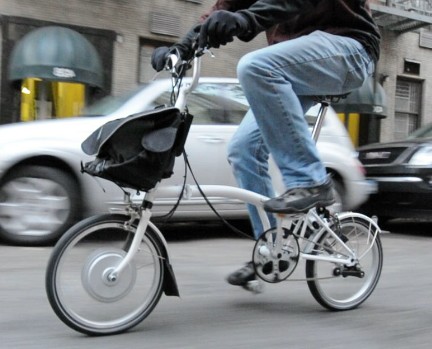 The front wheel of the bike contains the brushless 250 watt hub motor that powers a 36 volt lithium, 10AH battery. The battery rests in a messenger-bag just in front of the handlebars, as shown in the picture above. Riders can choose three speeds while pedaling, or give the throttle a press for a little extra boost. With a full charge, the bike can reach a top speed of 20mph and a distance of approximately 20 miles, so most users would only need to charge nightly in preparation for the next day. The combined weight of the bike is only 45lbs, not bad at all for a complete transportation device.
Obviously, the product is really only for city consumers who don't have to travel on freeways in order to get to their job. But, the bike can be used as a recreational vehicle as well, keeping in mind the 20 mile travel limit. Cities like Seattle, New York, Portland, Chicago, and San Francisco seem ideal for the electric bike, but before rushing out to order your own, be warned. The top-of-the-line Brompton electric bike runs almost $3,000 – a decent price for someone looking to sell their car, but not for the casual buyer.