The latest in solar chargers doesn't fit in your purse, roll out of your backpack, or hook up to your bike. This solar charger is actually a pair of pants, and a rather spiffy pair at that.
While we've seen some solar-panel equipped clothing in the past, the GO Urban Cargo Pant from Silvr Lining (which comes to us by Ecotourre) is by far the closest thing we've seen to stylish in this emerging category of portable power. It's made of soft, vegan Ultrasuede and includes a pair of built-in photovoltaic panels – so no more annoying 'low-power' warning signals from your cell, and no more communication break-downs when you happen to be away from a socket.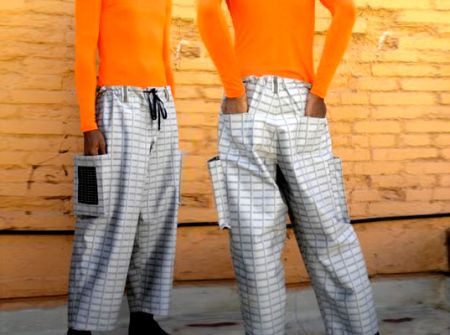 These pants feature a low-slung drawstring and are billed as lightweight, water-resistant, stain-repellent, and tough. Two side pockets function as independent power supply for your cell, while the two button-down back pockets and the Tagua nut button over the drawstring provide added functionality and style.
Silvr Lining, in case you were wondering, is "an eco-chic, design-driven fashion company with a sunny California point of view" which features various styles designed in L.A. and made in the USA.  The GO Urban Cargo Pants are part of the company's GO collection and sell for (cough, cough) $920.
Like what you are reading? Follow us on RSS, Twitter and Facebook to learn more and join the green technology discussion. Have a story idea or correction for this story? Drop us a line through our contact form.