Ford, using the Consumer Electronics Show in Las Vegas as a stage – instead of the upcoming big auto show in Detroit – has formally introduced the Ford Electric, its first all-electric passenger car. The company said the car, to be manufactured for North American sales at its plant in Wayne, Mich., will launch by late this year.
Mindful of possible public reluctance to move away from the familiarity of gasoline-powered cars, Ford said the five-door hatchback on its global C-car platform was "a real car," and offered up reassuring adjectives like agile, sporty and responsive. And yet, befitting the venue where it was introduced, Ford put its greatest energy behind emphasizing the technological side of the Focus Electric.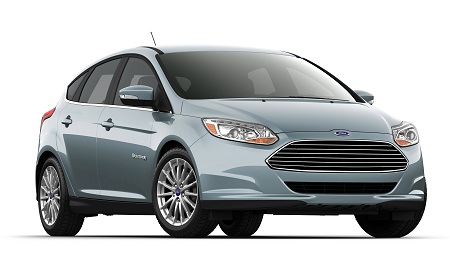 The company said the car "uses a high-tech driver interface to help drivers optimize range and experience the freedom of fuel-free driving." Ford was a bit coy about the car's range – which can be tricky business with electrics, with so much dependent on how the car is operated – but it has said it was targeting a range of up to 100 miles for the vehicle. In its press release, Ford said the new EV will provide "enough range to cover the majority of daily driving habits of Americans," with a "mile-per-gallon equivalent better than Chevrolet Volt and competitive with other battery electric vehicles."
Ford also outlined a number of smart features – features that have been promised by companies like ECOtality and Coulomb – hoping to build charging networks, but that come with the Focus Electric. For instance, Ford unveiled a smart-phone and Web application, MyFord Mobile, through which drivers can view the charging status of their car, control the charging process or find the nearest charging station. The app could also be used to fire up the car's heating and cooling system remotely before heading out on a drive.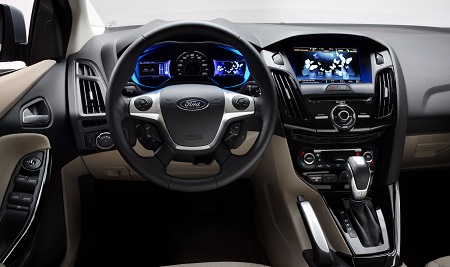 Ford also touted what it called "value charging," a smart feature developed with Microsoft that allows the vehicle to be plugged in and programmed to draw its charge during off-peak periods, when electricity is cheaper. This is another feature the charging companies have talked about.
Like the other new electrics, the Focus Electric can charge off a standard 120-volt plug, but slowly. For faster charging, Ford said Best Buy would sell and the store's Geek Squad would install a 240-volt home charging station for approximately $1,499, a good bit lower than the $2,200 Nissan is asking to get a charger through Nissan dealers. Another advantage Ford claimed over the Leaf: "Ford's on-board 6.6-kilowatt charger allows for full charge at home with the 240-volt outlet in three to four hours – charging in half the time as the Nissan Leaf."
No word yet on how much the Focus Electric will cost.
Like what you are reading? Follow us on RSS, Twitter and Facebook to learn more and join the green technology discussion. Have a story idea or correction for this story? Drop us a line through our contact form.