Many off-grid homes with solar electricity systems feature a diesel generator for back-up power. Now, homes connected to the grid can use solar power as a back-up, thanks to the Ecotricity ECO1800 solar-powered generator on display this week at the International Consumer Electronics Show (CES) in Las Vegas.
This new product from Universal Power Group (a distributor of batteries and power accessories) features an 1800 watt inverter with four 120 volt outlets and a 50-foot cord hooked up to a high-efficiency foldable solar panel. The unit includes a cart for optimal positioning via the rays of the sun and provides juice via standard DC or AC outlets. The 1800 solar generator is the first of Universal Power Group's recently announced line of  solar-powered "Ecotricity" products.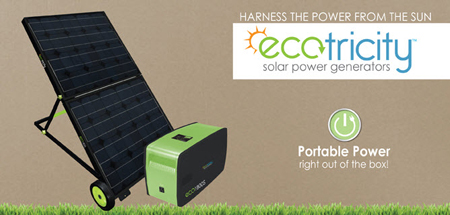 Other features of this solar charger include fully charging its generator within 12 "solar hours" so that the generator can be used at night to power lanterns and radios and the ability to offer up to four hours of emergency power for a cordless phone, television, clock radio and lamp, among other devices.
Like what you are reading? Follow us on RSS, Twitter and Facebook to learn more and join the green technology discussion. Have a story idea or correction for this story? Drop us a line through our contact form.